Think of the s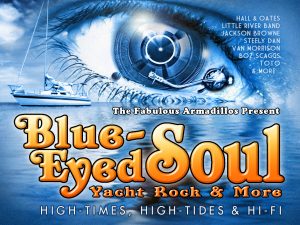 mooth sounds of Boz Scaggs, Jackson Browne, Steely Dan, Hall and Oates, the Little River Band. Now think of the musical chops displayed by the Fabulous Armadillos. Put those two together, add the vocals of some very special guests, and you've got Yacht Rock: Blue-Eyed Soul, a show filled with the hits of the 70's and 80's. As part of the Central Lakes Community Performing Arts Center's Cultural Arts Series, the show will perform at 7:30 p.m. on Thursday, February 2 in the Tornstrom Auditorium.
Series Producer Patrick Spradlin called this one of the most appealing events on this year's calendar. "We've never been disappointed by the Armadillos, whether it's been their Eagles tribute show or one of their theme shows like last year's 'Lucky 7's," said Spradlin. When (Armadillos front man) Greg Armstrong told me about this show, I knew I had to bring it to town."
Not only will the Armadillos recreate the sounds of these iconic hits, as only they can do, but 'Blue Eyed Soul' will also feature the vocal work of some very special guests. Primary among them will be Alex Ligertwood, lead singer for Santana for 13 years. Alex's work with Santana includes hits like 'I'm Winning' and 'Hold On.' He also sang with the Average White Band and Jeff Beck. Ligertwood will sit in with the band here as he did for their Woodstock tribute show.
"We'd kicked around the idea for this theme show for some time," said Armstrong. "One of the Armadillos would bring up a lot of these kinds of songs to include in other shows, and they didn't make the cut. When we knew we would be able to include Alex and some other singers, it all fit together into this theme show."
Other guest vocalists will include John Scalia, a powerhouse singer who was last seen in Brainerd with the Armadillos 'Lucky 7's' show. Richard Witteman never fails to stop the show when he performs 'Take it to the Limit' as part of the Armadillos' Eagles tribute. And Pamela McNeill, a legendary Minnesota performer in various bands, including her own Fleetwood Mac tribute show 'Rumors and Dreams', will bring her own virtuosity to the songs in the show.
The Armadillos are, in addition to Armstrong and McNeill, guitarist Paul 'Stretch Rocker' Diethelm, bassist Mike Zeleny, drummer Jay O'Donnell, guitarist/vocalist Billy Scherer, and horn players Pat Thorn and Mike Kreitzer.
"The 'dillos never fail to please," said Spradlin. "This will be a great evening of music played by people who really know what they're doing."
Tickets for the Fabulous Armadillos 'Blue Eyed Soul' are available from the CLC Box Office at (218) 855-8199, or online at www.clcmn.edu/arts
The show is sponsored by Mickey's Pizza and Subs, Katie and Randy Lee of Edina Realty, and the Jack Pine Brewery.