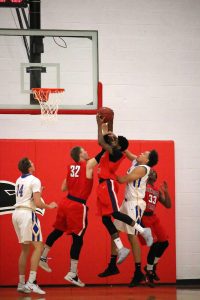 By: Osirus Washington
The Raiders men's basketball team played a really good game against a really good team Saturday afternoon. The result: a 69-77 tough loss to the Anoka Ramsey Golden Rams.
The Raiders knew coming into the game Anoka Ramsey could run the score up in a hurry. Coming into the game, the Golden Rams averaged a mere top ten 98 points per game.
It was CLC's Sean Mcgee's job to step up and defensively set the tone for the Raiders, which he does well, getting up in the opposing guards' face, and making them work 90 feet for a bucket. Mcgee is also playing 30 minute games and means so much to this young team, being one of the lone sophomores.
In the First half, Edvonte Copeland and Mamadou Ngom of Anoka Ramsey combined for 24 of their 32 points on 10-14 shooting. The pair bailed their team out of the trenches time and time again whenever CLC would go on a run. The first half was close and the Raiders even held the lead for a fair portion before Anoka Ramsey went on a 9-0 run to close out the half and go up 32-25.
The beginning of the second half looked a lot like the end of the first half, with the Raiders not being able to stop the Golden Rams from putting the ball in the basket. By the time there were 14 minutes remaining, the Raiders were down by 13, but that didn't make them give up. TJ Kornbaum sparked a 7-0 run for the Raiders to bring them back within 6. Darrelle Bacon hit a pair of 3s and energy was flowing, with every player being rotated in. Anoka Ramsey could barely score for about 7 minutes in the second half from 14:00-7:00. During this stint the Raiders came within a point 60-59 with 7:40 remaining.
Anoka Ramsey took off after that and closed the game on a 17-9 run. The Raiders took a lot of positivity and learned a lot from their loss.
"We (were) alright. We played good and we played hard," said Timothy Boyd to the team in the locker room after their tough loss. They competed with the team Coach Jim Russell labels as the best team in the state as of right now. They are 7-0 but the Raiders played a very competitive game and didn't allow close to the 91 points a game Anoka Ramsey now averages.
Look for the Raiders to bounce back Friday night vs. Ridgewater in Wilmar.