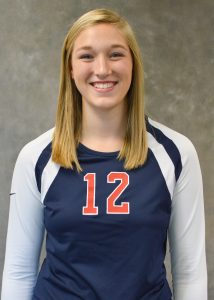 Central Lakes College sophomore and Heron Lake native Rachel Mathias was named a Division III first-team All-American by the National Junior College Athletic Association.
"Rachel gained a lot of confidence between her first and second seasons," said Head CLC Volleyball Coach Jane Peterson. "You always want a sophomore to return with a little more fire and power and she did in a big way! She was just so consistently dominant – every single game we played. She carried a big load, without a complaint and without weariness. She was there for her team every day with a big smile and a happy heart."
Rachel finished eighth in the nation in hitting percentage (.414), fifth in the nation in kills per set (4.05) and fourth in the nation in total kills (498). She helped CLC to Northern Division and Region 13B championships. The Raiders finished 13-1 in division play, 22-13 overall after a fourth-place finish in the national tournament.