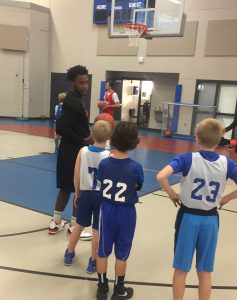 Coach Jim Russell and the CLC Men's basketball team spent their Wednesday afternoon teaching middle schoolers the fundamentals of the game at Forestview Middle School.
With their first game friday, Russell still made it a priority to give back to the community.
The clinic was a lot of fun for the kids and the players. The kids were divided into six different groups: Ball handling, defensive close-outs, passing, shooting, layups and rebounding.
CLC freshman Timothy Boyd said, "It felt good running camp for those kids today. I used to look up to the older hoopers in my neighborhood, and now I know what it feels like to be looked up to and appreciated."
Following the clinic, freshmen Thomas Kornbaum, Troey McEuens and Shyheem Murray put on an entertaining dunk contest for the kids as they got out their cameras for Snapchat. Look forward to more community involvement from your Raiders.