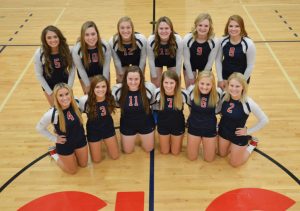 The 7th ranked Raiders Women's Volleyball team stringed together two key wins over the weekend versus conference opponents Rainy River (Friday) and Hibbing (Saturday). The win over Rainy River helped them clinch the No.1 seed, and claim home court advantage throughout the playoffs up until nationals. The Raiders finished the regular season with a 13-1 conference record. Their lone loss came to 10th ranked Rainy River, and we got sweet revenge on Friday.
On Friday night CLC had one motive, and that was to get revenge on Rainy River, the team that put an end to their perfect season in conference play. Coming into the game CLC had an 11-1 division record and Rainy River was 10-2. The Raiders went 3-0 in front of a nice home crowd. Week 8 National Player of the Week Rachel Mathias came up big in Friday's game. She recorded 15 kills and added 9 blocks for the Raiders with the Northern Division title on the line.
Coach Peterson had her team well prepared coming into this game, and they fixed the problems they had in the last meeting against Rainy River. In the first meeting, they allowed Rainy River to have it hitting the ball and racking up the points. This time around the serving was wonderful, led by Lakyn Anderson with 4 ace serves. Britta Torgerson and Kaitlyn Christen each added 7 kills and a dig.
Saturday's game:
CLC went 3-1 in their season finale versus Northern Division opponent Hibbing. Rachel Mathias had another big game, as she recorded 17 kills and added 6 blocks. Kahlen Manthey displayed a great sense of urgency as she had a jaw dropping 29 digs. Sierra Nori also added 11 digs. Hibbing played well but was simply overpowered and couldn't hang with the Raiders.
No. 1 CLC looks forward to hosting No. 4 Mesabi Friday at 6 p.m. for the Region 13B Semi final. The winner will play the winner of the Rainy River vs. Itasca game. You wouldn't want to miss this intense weekend of volleyball at CLC. The team that wins Region 13B will go on to Nationals in Rochester, MN November 11-12.