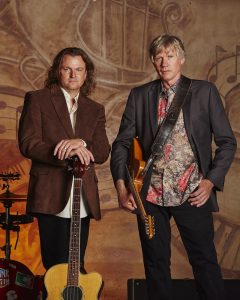 A switchback is a ziz-zagging road that doubles back on itself before reaching its destination. For the duo that call themselves Switchback, their music takes many paths as it finds its way to the audience. Switchback, a Chicago-based band featuring Celtic and Americana music, will perform on November 18 in the Chalberg Theatre on the campus of Central Lakes College. As part of the Cultural Arts Series, the 7:30 p.m. concert will introduce a dynamic pair of singer musicians to the area.
"The show that we present is high-energy but very engaging," says Martin McCormack, vocalist and bassist for Switchback. "The audience feels like they're part of the show. It covers a wide range of music. It's just a very down-home feeling when we take to the stage." The duo of McCormack and guitarist/mandolin player Brian FitzGerald have been playing together for over 20 years.
Switchback draws from a catalog of more than 300 original tunes plus traditional Irish music and some humor. "We like to fly by the seat of our pants," McCormack said. "We follow the energy of the audience. That group participation feeling is what it's all about. It's a lot of fun. We encourage the audience to clap, sing, make some comments, whatever they want so no concert is ever the same with Switchback."
Switchback plays an exciting mix of mandolin, guitar, and bass and their harmonies have won them comparisons to famous duos, such as the Louvin Brothers, the Everly Brothers, and Simon and Garfunkel. Music Connection Magazine said of Switchback: "The words 'American Roots & Celtic Soul' only begin to describe this unusual act, whose vocal prowess is as pure as it is unique…there is no denying the stunning vocal blends that are achieved by this duo."
Their Celtic music is authentically Irish, drawing praise from such traditional players as Matt Molloy of the group the Chieftains. Ireland has taken Switchback to her heart, with performances at art centers throughout the country and appearances on RTE (Raidió Teilifís Éireann). At the same time, their music is modern Celtic, with songs capturing the Irish of today as accurately as the Pogues and singer-songwriters like Christy Moore.
Switchback tours throughout the United States, Canada, Ireland, the United Kingdom, Italy, Sweden and The Netherlands playing over 200 engagements a year. Their television specials "The Americana Sessions," "The Celtic Sessions" and "Music on the Mayne Stage" have aired on PBS stations throughout the U.S. The band has also been working with Paul Von Mertens (who arranged the music for "Brian Wilson Reimagines Gershwin") on orchestral scores for some of their original music.
"To be an independent musician is to take the chance that your life is going to be spent working and touring. It's not an easy life. The rewards outweigh all the suffering," said McCormack, noting that presenting outreach programs is paramount to Switchback.
"It really is something magical to connect with people. Especially today, I think it's really important to build community in the communities. We live in such a divisive world. This is one place where people can let go of any kind of affiliation that they have, and they can just cut loose and enjoy themselves."
Tickets for Switchback are available from the CLC box office at (218) 855-8199 or online at www.clcmn.edu/arts
The concert is sponsored by Prairie Bay Restaurant and is partially funded by a touring grant from Arts Midwest. The entire CLC Performing Arts Center season is made possible in part by an operating grant from the Minnesota State Arts Board, thanks to a legislative appropriation from the Arts and Cultural Heritage Fund.