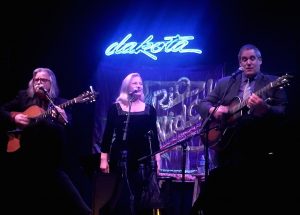 Take a trip back in time, to the days of classic jazz and swing of the 1930s and 40s, as Rio Nido takes the stage on Friday, September 23 in the Chalberg Theatre on the Brainerd campus of Central Lakes College. As part of the Central Lakes Community Performing Arts Center's Cultural Arts Series, the Minneapolis-based trio will hit the stage at 7:30 p.m.
Rio Nido is one of the Twin Cities' most beloved vocal groups. The original trio of Tim Sparks, Prudence Johnson, and Tom Lieberman established themselves as ace performers, playing classic jazz from the 1930's and '40's at the hottest spots in Minneapolis. After garnering regional attention and releasing several records between 1972 and 1986, the group disbanded, and each member has gone on to enjoy successful solo careers. They reunited in December of last year, and are performing throughout Minnesota and the upper Midwest.
Prudence Johnson's long and happy career as a singer, writer, and teacher has landed her on the musical theater stage, in two feature films ('A River Runs Through It', 'A Prairie Home Companion'), national radio (several long stints on A Prairie Home Companion), and on concert stages across North America and occasionally Europe. She has released more than a dozen recordings, including albums dedicated to the music of Hoagy Carmichael, Greg Brown, and a collection of international lullabies.
Songwriter and guitarist Tom Lieberman was a regular contributor to Garrison Keillor's "A Prairie Home Companion" for 10 years. His music has been heard far and wide, on productions ranging from Sesame Street to Sweet Land. Tommy's recent recording of original songs, "Common Denominator," has been received enthusiastically by listeners and broadcasters worldwide, and was named one of the Star Tribune's Top 10 Minnesota-Made Recordings of 2013.
Tim Sparks is an award-winning guitarist whose blending of musical styles has won him extensive praise from all corners of the music world. Guitar Player Magazine has called his music "Fresh, exotic, and totally cool." Acoustic Guitar Magazine calls it "rich and sensuous," and guitarist Leo Kottke simply says "He's really one of the best musicians I know." From the early traditional country blues and gospel music he learned in the Blue Ridge Mountains to the jazz, Bebop, classical and world music from his varied career across the U. S. and Europe, Tim has thrilled and inspired audiences and musicians world-wide.
In an interview with the Minneapolis Star Tribune last December, the three spoke of their reunion and the result of it. The three Rio Nido members have worked with each other throughout the years ("we've been circling each other," Sparks noted) but never all three together.
What does each member bring to the trio? "Prudence doesn't just sing well, she conveys," Lieberman said. "She has a sense of righteous and ethics both in life and music," Sparks said.
As for Sparks, he "brings this kind of intellect," Lieberman pointed out. "He's got this music that's very broad and really rich."
Lieberman's asset is "a great sense of rhythm," Johnson noted. "In this dynamic, Tom is the one insisting on perfection." "I'm the straight man," Lieberman interjected, "and Tim and Prudence are the characters."
Rio Nido was inducted into the Minnesota Rock and Country Hall of Fame in April, 2007.
Tickets for Rio Nido are available through the CLC box office at (218) 855-8199 or online at www.clcmn.edu/arts
The concert is sponsored by Arrowwood Lodge of Baxter.