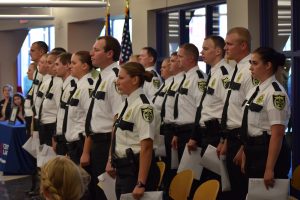 The CLC Law Enforcement Program recognized 17 students who met the requirements to graduate from the eight-week certificate program.
As part of the ceremony, four students were recognized for exceeding the standard for the fitness assessment;  Nathan Parenteau, Miranda Lambert, Philip Girdy, and Axel Lange.
Squad leaders Nathan Parenteau and Peter Kvale were recognized for providing leadership for their assigned squads.
Nathan Parenteau was also elected as student representative by his peers to represent the class at graduation.
Zachary Reynolds received this year's Top Gun award.  The student who is awarded this certificate has distinguished himself/herself as scoring the highest score during the Handgun qualifications.
After earning the Law Enforcement Skills Certificate, along with a Criminal Justice A.A.S. Degree, Criminal Justice Certificate or Natural Resources Law Enforcement A.A.S. Degree, students are ready to take the peace officer licensing exam.
2016 Graduates
Nathan Parenteau, Samatha Anderson, Travis Case, Stephanie Hertzog, Amber Hines, Miranda Lambert, Zachery Reynolds, Andres Rugloski, Peter Kvale, Cullin Carter, Philip Girdy, William Hilton, Axle Lange, Tiffany Plafcan, Colter Riedel, Scott Sandquist, Rikkia Smith