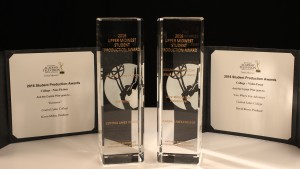 Two Central Lakes College videography students won Upper Midwest Emmy Crystal Pillar Awards from the National Academy of Television Arts & Sciences.
The event was held April 10 in Bloomington. CLC students competed against college media production programs from Minnesota, Iowa, Wisconsin, and North and South Dakota.
"The amazing thing about having nominations in the Upper Midwest Regional Emmys is having our school's name on the big screen with major 4-year programs like the University of Minnesota and St. Cloud State.  When one of our students wins, it feels like we're in the same league as them," said Mark Ambroz, CLC Videography instructor.
Honored were:
Kevin Miller, 2015 CLC graduate from Pequot Lakes. Miller won a Crystal Pillar for his capstone film "Existence" in the non-fiction category.
David Rossow, 2015 CLC graduate from Sartell. Rossow won a Crystal Pillar for his capstone film "Live Where You Adventure" in the video essay category.