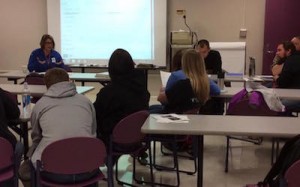 The Law Enforcement General Evidence class is conducting a case study on the missing person case of Marc Welzant, who went missing in Brainerd on Oct. 26, 2014. Students are reviewing media coverage, newspaper articles and reports. They're using an extra set of eyes to see if anything was missed or if they can help answer any questions.
In their initial meeting, students revealed they're confused how someone can vanish from thin air.  A couple of the students helped on the initial search with the family last year.
Instructor Gae Davis feels the study is good experience for students to review reports and get an overview of the case.  "We want closure for this family and to help in any way we can.  A community comes together when something like this happens, and Marc was maybe not know personally by many but the community knew who he was."
The class will meet and discuss the case study again next week.