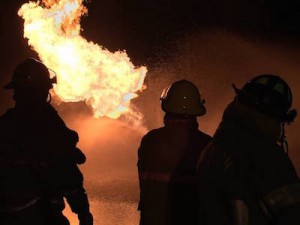 Twenty firefighters from the Mission Township Fire Department participated in Central Lakes College's Fire Fighter Propane Emergencies Course this week.
The goal of the class is to train firefighters about the physical hazards associated with propane gas and how to fight a propane gas fire.
"When dealing with propane emergencies, firefighters have to use a team approach to be safe.  This specialized training allows firefighters to master this skill in a live fire training scenario," said Eric Makowski Budrow, Customized Training Representative and FIRE/EMS Program Manager at CLC.
Central Lakes College provided the training opportunity with a generous propane gas donation from AmeriGas, which included a classroom fire behavior and tactics discussion and a brilliant light display from the firefighting operations.
"This type of training is crucial," said Randy Roach, Mission Township Fire chief, "In our area most homes are heated using natural gas and we need this training to prepare ourselves in the event there is a leak."