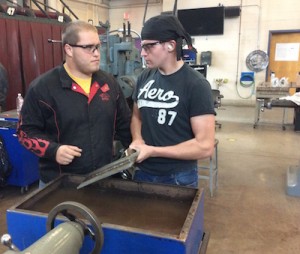 Nineteen-year-old Curtis Brisk wears a lot of hats. He's a farmer, helping his parents on the family land. He's a football player, having been recruited to play offensive line at CLC. He's also a welder, and is mentoring other students in the craft.
The Pierz native never wants to stop learning. He never wants to stop helping others. And he found a place for those desires at CLC.
He earned his welding diploma and robotic welding certificate last semester. Now he's focusing on his AAS Degree at CLC, as well as working toward his non-destructive testing certificate at the American Institute of Nondestructive Testing in Baxter.
When not in class, Brisk is either on the football field or mentoring other students in the welding program as a tutor.
Welding instructor David Otto said Brisk is able to relate to other students because he faced the same struggles when going through the program.
Brisk likes helping his peers, always offering the advice: Don't be overwhelmed by all the work. It's a demanding 10 months, but take it one day at a time.
"I fell in love with it. You can make stuff," he said of welding. "It's cool that any type of metal you can fabricate and repair. It's being able to take raw material and turn it into something useful."
Brisk's passion for welding first ignited as a kid, when his brother-in-law taught him some of the craft. That, coupled with a few classes in high school, set his eye on the trade.
He chose CLC because it's close to home (and he can still help out on the family farm) and he heard great things about the welding program.
Even in Brisk's first few days in class last year, Otto knew he was a "respectable, hardworking kid."
Brisk stayed extra hours, making sure each project was perfect, Otto said.
"He went above and beyond," he said. "He's not scared of hard work."
On the football field, nobody outworks Brisk, said Greg Medeck, head football coach.
"He is one of those first to arrive, last to leave individuals that models the expectations of the program," he said. "I am proud of all that Curtis has been able to accomplish here at CLC with his coursework, tutoring, and football… He is a great young man that really represents the mission of Raider Football."
Brisk also sits on the football leadership council, where he contributes to discussion on issues related to team success on and off the field.
Brisk isn't quite sure what he'll do after he finishes up at CLC. Maybe he'll go on to a four-year school if he gets a football scholarship. Perhaps he'll get a high-paying welding job. Whatever life throws at him, though, Brisk is ready for it.