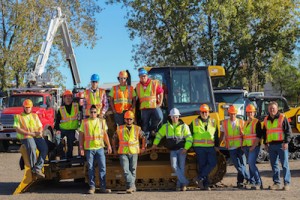 A group of Central Lakes College students and staff helped at an event that raised $27,000 for the Children's Hospital and Clinics of Minnesota.
The 3rd annual Day of the Dozers took place Saturday, Oct. 3 in Elk River, and 13 of CLC's Heavy Equipment Operations and Maintenance student club members, four staff and faculty, and a few CLC graduates, were on hand to help out.
The CLC representatives helped children line up and get ready to ride on the machines. They also operated a trailer of heavy equipment simulators for visitors to test out.
The money raised far surpasses the goal of $20,000.
"It made me proud to see our students interacting with both parents and children. They did a fantastic job and I think truly enjoyed being part of the event," said Chris Hadfield, dean of Career and Technical Education and the Staples Campus.