Central Lakes College is proud of the involvement of our students in sustainability efforts.
The Green Club
The Green Club is comprised of dedicated, excited students who advocate for environmentally friendly practices on campus and beyond. They believe in global connections and local action. The Green Club was honored by being selected as the CLC Brainerd Campus Club of the Year for 2009-10.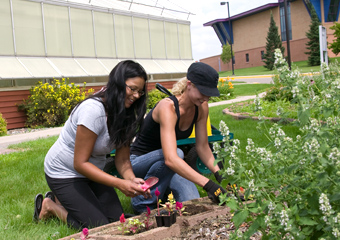 The Green club has:
Hosted Earth Day activities,
Hosted Green Week events.
Organized Christmas tree light recycling
Hosted clothing and re-gifting exchanges
Hosted mug/water bottle and canvas/shopping bag exchanges
Distributed lists of environmentally conscious gift giving ideas.
Sandra Kaplan (Advisor) skaplan@clcmn.edu
Students have also:
Participated in ride sharing opportunities
Had recycling competitions
Focused on reduction of paper usage through printing limits
Assisted with collection of t-shirts to reuse for diapers
Provided feedback for campus food service on comparison of disposable vs reusable flatware and plateware
Participated in recycling of toner cartridges and cell phones
Participated in collection of out-of-date textbooks donated to third world countries
Students in our Occupational Skills Program collect recycling at the Brainerd Campus on an ongoing basis, and our Communication Art & Design and Marketing/Management students have been involved in logo development, recycling signs and the naming process for our environmental committees on campus.
Student in our Natural Resource and Horticulture Club also participate in numerous club activities such as building purple martin bird houses, birding demonstrations and numerous service learning/civic engagement projects throughout our communities.