Buildings
CLC purchases green or environmentally preferable materials and recycles construction materials.
There is an effort to schedule classes, including evening classes, efficiently to maximize utilization and/or minimize energy use.
CLC is requesting HEAPR funding to Replace air handlers and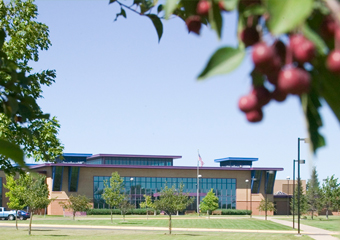 distribution to offices/classrooms, Upgrade Brainerd Campus generators and install new generator at Staples Campus, Upgrade Staples Campus emergency notification system, and replace main power distribution to Staples Campus. Other future energy projects through local Repair & Replacement funds including replacing exterior windows, upgrading of pneumatics to DDC for the Brainerd East End, and bathroom remodels.
Central Lakes College has submitted a capital budget initiative project for $3.724 million. The Staples Campus Update including the re-location of our Ag/Energy Center Operations to the Staples Main Campus, facility improvements such as wind, solar panels, biomass and geothermal studies that will improve the facility as well as serve as a teaching tools for sustainability programming. This capital project initiative is proposed for consideration in the 2012 Legislative Bonding Cycle.
Campus Energy
CLC has a building energy management plan to insure that the least amount of energy is used in every building and meters energy use in individual and connected buildings
CLC uses the energy management system to control the HVAC running time according to class schedules or events.
Lighting is controlled by motion, infrared, and/or light sensors to reduce energy use, with set times for interior and exterior building lights to turn on and off.
Energy management systems regulate temperatures based on occupancy hours in the buildings.
Motion sensors have been installed for vending machines. Use of "Vendor Miser/ convenience snack centers
CLC has gone through a recommissioning process to evaluate and correct the energy performance of campus buildings.
Biomass (corn) is used in a corn burner.
Use of Energy Star computers
Water
CLC has taken measure to reduce water consumption by using water reducing faucets, water reducing shower heads and low flow urinals.
There are building-level water consumption meters for all buildings.
Non-potable water is used for irrigations and other applications.
Weather data or weather sensors are used to automatically adjust irrigation practices.
The Maintenance Department has been a leader in recognizing that ideas on the front end require change and that this change can be good.
The Energy Savings Project made lighting and mechanical improvements, introduced lighting occupancy sensors, and automated temperature control systems. The cost of improvements is paid by the energy savings.