A Sustainable Future
Focusing on environmental stewardship and sustainable facilities, Central Lakes College (CLC) is deeply committed to being a model in our community for setting policies and practices that promote conservation and minimize our environmental impact. In addition, by providing training and education in sustainability, we seek to give our students the necessary skills and knowledge to perform and compete in a future where sustainability will not only be a buzzword, but a necessary reality.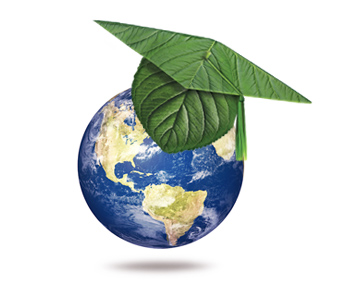 Saving energy, waste reduction and reducing pollution have long been priorities at Central Lakes College. Through both student and staff committees and with administrative blessing, stepped-up initiatives in 2009 began incorporating energy-saving and earth-friendly actions throughout the college.
The Green Team is the conduit for all Green issues to staff, faculty and administration.
Central Lakes College has responded to the Green Movement in manners that have transcended typical barriers in the past. Choices and options for change and growth are more easily discussed between departments and – more importantly – implemented.
Ways the college advocates action:
Offering Green Programs which include the first AA degree in the MNSCU system
Earth Day activities
Staples Campus Capital Project
A strong, ongoing recycling campaign
Adoption of The Energy Savings Project and Energy Star improvements
Promotion of car-pooling among staff and student
Inclusion of hybrid and high-mpg vehicles in rental fleet for college functions
Researching and experimenting with biofuels and alternative crops
Increased use of technology, less reliance on waste-generating practices
Training displaced workers for the green-job future.
Offering more online classes and course schedules to reduce travel cost
Member of Minnesota Waste Wise – ahead of schedule for pay back
Student led Green Activities
Grant programs for dislocated workers
Sustainability 2010 6-1.30.10_Part 1 (pdf)
Sustainability 2010 6-1.30.10_Part 2 (pdf)
Sustainability 2010 6-1.30.10_Part 3 (pdf)
Sustainability 2010 6-1.30.10_Part 4 (pdf)

CLC Memberships
Sustainability Education & Economic Development Initiative SEED