Why Choose Nursing Assistant Certificate at CLC?
• Attention to detail: instructors are willing to work with students to achieve success
• Clinical experiences that prepare you to work immediately after completing the course and testing
• Flexible schedules: daytime and evening classes to accommodate your schedule
• Multiple opportunities for employment and/or further education
Tara Karels, Director of Nursing
Tara graduated from both our nursing programs, completed her BSN at the College of St. Scholastica, and her Master's degree from Walden University. Her past nursing experience includes: prenatal, labor/delivery, and postpartum nursing, pediatrics, and childbirth education. Prior to her work at Central Lakes College, Tara coordinated a prenatal education program and traveled internationally training childbirth educators and doulas. After 3 years of teaching in both the Practical Nursing Program and the Associate Degree Nursing Program, Tara became the Director of Nursing in June 2015. When she isn't working, Tara enjoys being outdoors and staying active with her family. Email Tara for more information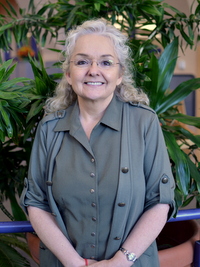 Gayle Ollila. Nursing Lab Coordinator
Gayle is the Nursing Lab Coordinator for the Central Lakes College Nursing Department. Prior to entering the nursing field, she owned and operated her own business for 27 years. She graduated with honors in May 2005 from the PN program at CLC, then worked for six-and-a-half years as an LPN before assuming the position of Nursing Lab Coordinator at CLC. Gayle's responsibilities include setting up patient simulations for nursing classes, maintaining simulation hardware and software, managing nursing student files, ordering class supplies, and controlling inventory. Email Gayle for more information
Tonya Kohanek
After years of going to another school, I returned to CLC because of the positive experience I had here the first time I attended college. All the staff at CLC is very helpful and always pushing you to make your goal.
Joni Singleton
I am attending Central Lakes College and currently in the LPN program and transitioning into the RN program next fall. I heard it had a great reputation and was close to home and convenient to attend. My instructors have been incredible, I have learned many great skills, and they all really want us to succeed.
Jessica Dybevik
Nursing is a passion, not just a career choice. I chose the PN program at CLC because it is a great program with many benefits. We get hands on training, interactions with real people, and exploration of different areas in the nursing field. Becoming a nurse has been the best decision I've ever made; I highly recommend it to others.
Tina Keehr
I chose the Practical Nursing Program at CLC because of location, but what I found was so much more. They provide a superior education in the heart of Minnesota. The nursing program at CLC is top of the line. I feel upon completion I will be prepared for my future as an LPN.