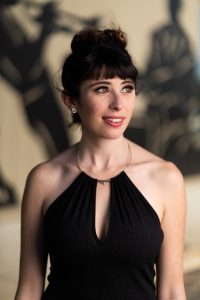 The Central Lakes Community Performing Arts Center (CLCPAC) has announced a five show season of live performances, ranging from rockabilly to jazz to comedy. Three of the events will be outdoors, and two are live-streamed.
Producer Patrick Spradlin said that CLCPAC's successes with both live and live-streamed performances made the decision to schedule a season of events all the more possible. "We didn't know two things: could we actually produce these events with all of the health guidelines in place, and would anyone attend," said Spradlin. "The answer to both was a resounding yes!"
The first three events will all take place outdoors on the south lawn of the Brainerd campus of Central Lakes College. "We staged two musicals outdoors this summer," noted Spradlin, 'and had very good attendance. The thought was, we have the stage all set up, why not use it for other events as well."
Spradlin pointed out that the outdoor events follow all recommended health protocols. "We're limiting seating to no more than 250 people according to state guidelines. All seating is marked so that audience members are socially distanced. We have hand sanitizers on site. Other measures are found on our website."
First up on the schedule on September 11 is the popular duo of Ted Manderfeld and David Eichholz with their Deuces Wild Dueling Pianos show. "We've had Ted and Dave here on several occasions," said Spradlin. "They never fail to thoroughly entertain. They are great musicians, and their audience-interactive comedy keeps everyone engaged, regardless of social distancing." The Manderfeld/Eichholz team has been together for 17 years, during which time they've performed over 2,000 shows throughout the U.S. and abroad, while traveling over 1.25 million miles. The Deuces Wild show will kick off at 6:30 p.m.
The Holy Rocka Rollaz return to Brainerd with their high energy show on September 19, with a 2 pm matinee performance. "We love this band," said Spradlin, "and so do our audiences. They play the classic early rock 'n' roll and rockabilly of Elvis Presley, Buddy Holly, Chuck Berry, Johnny Cash, and many more." The Minnesota-based Holy Rocka Rollaz bring back the sound, the look, the memories and nostalgia of one of America's most treasured eras. There's nothing but pure early American rock and roll about them.
October 3 brings Shaun Johnson's Big Band Experience to town for a 2 pm matinee. The group is a rare newcomer to traditional pop, fusing a big band spirit with an inventive edge, at once more risky than Buble, more modern than Sinatra. Shaun, an Emmy award-winning crooner (and lead singer of the internationally known vocal group, Tonic Sol-fa) indelibly stamps vocal jazz and swing with a contemporary punch, to the delight of both traditionalists and newcomers, emerging as an original voice in the continuing tradition of the American singer. The Big Band Experience can be seen on their very own, nationally televised PBS television special, "The Spirit of the Season."
October 10 closes out the live outdoor portion of the CLCPAC season when the George Maurer Quartet hit the stage for a 2 pm matinee show. Pianist/composer/arranger George Maurer is a well-known composer and arranger in the performing arts. His talents have taken him all over the world, with performances with Eric Clapton, and arrangements for renowned musicians from Bobby Vee to many symphonies across the U.S. George was awarded a McKnight Fellowship in Composition in 2014. His quartet consists of George Maurer, piano; Matt McIntyre, bass; Mike Lauer, guitar; and Scott Chabot, drums. The quartet's Brainerd performance will feature Minneapolis vocalist Leslie Vincent and selections from her solo CD 'These Foolish Things.' Critical reception of the CD was glowing: "These Foolish Things is a showcase of Vincent's trademark wit, soulful vocals, and riveting aural and stage presence."- Twin Cities Arts Reader; "Vincent possesses an incredible and unique voice" – Cherry & Spoon.
The season moves to live-streamed events on November 21 when the internationally-recognized a capella group Tonic Sol Fa presents 'I'll Be Home for Christmas.' The live show is tailored for the individual viewing audience, and features the Emmy-winning vocals of Tonic Sol-fa as well as the manic energy of a Top 5 Billboard artist with Shaun Johnson & the Big Band Experience. Viewers will experience a 60 minute virtual event from the safety of their own couch that includes special guests, brand new songs from an unreleased, upcoming album, live chat and interactive Q&A. "This will be a unique show, with our audience directly connected with the performers. And Tonic Sol Fa is far and away the best at what they do," said Spradlin.
The final event of the performing arts fall series will be nationally-known comedian Henry Cho with a live-streamed concert on December 12. Cho is a Korean comic who grew up in Tennessee, so his unique commentary on American life is a hilarious evening of good clean fun. Henry's TV credits include appearances on NBC's The Tonight Show, CBS's The Late, Late, Show, and NBC's Young Comedians Special. He served two years as host of NBC's Friday Night Videos and had many guest roles on various network sitcoms. Henry was co-creator, co- producer and co-writer of "The Henry Cho Show" on GAC. Cho's one hour Comedy Central Special, "What's That Clickin Noise?" is currently running and on Netflix. Henry can also be heard daily on Sirrus, XM, Blue Collar Radio and Pandora. He's also a regular performer at the Grand Ole Opry.
"This will also be an audience-interactive event," said Spradlin, "with a special meet-and-greet segment with Henry for patrons after the performance."
For more information on these events, including ticketing and access, visit the Central Lakes Community Performing Arts Center web site at www.clcperformingarts.com, or by phone at (218) 855-8199.