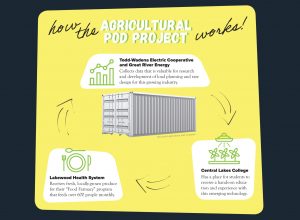 There are always new ideas and opportunities sprouting up at our Ag and Energy Center. One recent example is an aeroponics food pod, where we'll research indoor food production technology. Inside a massive shipping container, an entire aeroponic system will include all of the components needed for commercial food production. This project, which is a collaboration with the Todd-Wadena Electric Cooperative and Lakewood Health System, will help gather data useful for the future expansion of Minnesota's indoor agriculture industry. The shipping container will be on campus in a few months.
Our students will have the opportunity to learn first-hand about sustainable agriculture practices, while working in the food container. Lakewood Health System will receive the produce that is grown to use in their Food Farmacy program, which works to address hunger-health disparities throughout their federally designated food desert region.
The indoor food production container will also provide valuable data for utilities for the Todd-Wadena Electric Cooperative. In looking at the electric load the container requires to operate in the region, they can use this data for electricity load planning and evaluating beneficial rate designs. Indoor agriculture will allow food to be produced more efficiently and water to be used more efficiently as well.
"Students will gain first-hand experience on the latest technology in food production within the agriculture industry," said Keith Olander, Dean of Agricultre Studies at CLC. "Efficiencies with indoor food production and aeroponiccs will be critical as we look to feeding a growing population that will surpass 9 billion in a few decades."