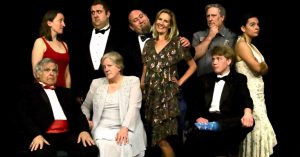 "Rumors," an adult farce written by America's premiere comedic playwright, Neil Simon, will open Brainerd Community Theatre's summer season on June 14. The show runs through June 16, and again from June 20-22. All performances are in the Chalberg Theatre on the Brainerd campus of Central Lakes College.
"We're billing this as an adult farce because of the salty language," says BCT Director Patrick Spradlin. "It's as fast-paced and witty as any of Neil Simon's plays, but it does have a liberal sprinkling of language that makes it a PG-13 show."
Written during a time of intense personal misery, Simon's play opened to great Broadway success in 1988 and has been a staple of community and regional theatres throughout the country. At the time it was written, Simon had lost a son-in-law to a fatal car accident, was in the final throes of a bitter divorce, and had not a bona fide hit for some time. 'Rumors' proved to be just the tonic he needed, as it boosted both his personal spirits and his standing as America's greatest writer of comedy.
Set in a chic New York home, 'Rumors' takes place over one evening when a cascade of events rains down upon the heads of its hapless characters. Ken and Chris Gorman arrive early for a dinner party at the home of Charlie and Myra Brock, only to find Charlie unconscious, bleeding from a bullet wound, Myra and the household servants totally MIA, and no clear answers as to who/what/why.
Because of Charlie's standing in the community and his political office as deputy mayor of New York, Ken and Chris concoct a plan to keep the events a secret until they can figure out what's happened. The next guests to arrive, Lenny and Claire, have just had a minor car accident on their way to the party, leaving Lenny with a case of whiplash and Claire a fat lip. Ken and Chris' subterfuge works on the couple, and then is spun out even further when Ernie and Cookie arrive. The new couple, a therapist and cooking show host, respectively, are given the job of preparing the evening meal in an attempt to keep them preoccupied and not asking awkward questions.
As the facts begin to make themselves known, the three couples agree to maintain the charade when a fourth couple arrive. Cassie and Glenn are in the midst of a battle royale over Glenn's alleged infidelities, and their warring entrance only adds fuel to the fire already at full roar.
When the police show up to investigate reports of gunshots fired in the neighborhood, all four couples must improvise like mad to keep the real facts from becoming known.
The production, directed by Spradlin, includes in the cast Travis Chaput and Karla Johnson as Ken and Chris. Chaput most recently portrayed Igor in the musical 'Young Frankenstein;' Johnson is the drama director at Brainerd High School, and was seen in the Pequot Lakes Community Theatre production of 'And Then There Were None.' Lenny and Claire are played by Michael Sander and Rhonda Schmidt. Sander has appeared in BCT productions of 'Spamalot,' 'The Mousetrap,' and 'The Seafarer.' Schmidt, a Little Falls native, last appeared on the Chalberg stage in 'Spamalot.'
Ernie and Cookie are portrayed by BCT veteran Marc Oliphant ('Young Frankenstein,' 'Play On!,' 'Cat on a Hot Tin Roof') and Wendy Vandeputte, who returns to the Chalberg stage after a seventeen year hiatus. Vandeputte played in the farce 'Don't Dress for Dinner' in the summer of 2001. The roles of Cassie and Glenn are played by Emili Lane ('Young Frankenstein,' 'Play On!,' 'Mr. Burns: A Post-Electric Play') and Erik Sanbeck ('Mr. Burns.')
The two officers who join the party are played by BCT newcomer Dan Maertens and Michelle Waldoch ('Play On!'). Waldoch is also production stage manager.
The set for 'Rumors' is designed by Tim Leagjeld. The costuming is by Nicole Rothleutner, sound and lighting is designed by Ben Kent, and technical director is George Marsolek. John Erickson will once again chronicle the show's development from rehearsal to opening night, with a gallery display of his photos appearing in the Chalberg lobby.
Tickets for 'Rumors' can be purchased through the CLC Theatre box office at (218) 855-8199 or online at www.clcperformingarts.com