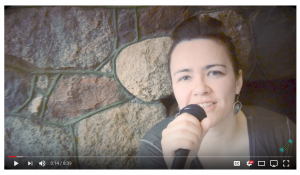 Lindsey Nelson
2002 AA Degree Graduate
Job: Web developer who shares free programming-related videos on her YouTube channel, RealToughCandy.
Lives in Remer. 
YouTube channel: RealToughCandy
We sat down with CLC Alumna Lindsey Nelson to see what she's up to since she graduated. Check out this Q&A:
Why did you choose CLC for PSEO?  The college in Grand Rapids was closer, but there was just something about Brainerd I really loved as a teen. There were so many more places to get lost in and explore, old places with tons of character. My mom had also graduated from CLC back in the day, so I thought it would be cool to follow in her footsteps.
What high school did you attend?  I attended Northland High School in Remer for two years. One day in English class, some of my classmates were talking about advanced academic programs, and had mentioned PSEO. I took some mental notes and said, "I gotta do this." Just the idea of getting a college education and having the freedom and independence as a college student was a dream come true. On my first day at CLC, somebody had held the door open for me and I was like, "Woah, this is already so much different than high school." There weren't any bells to tell you that class had started or ended. It was just the instructor saying, "All right, our time here is over. See you Wednesday."
How did CLC help you get to where you are today?  CLC helped me in so many ways. I had some awesome teachers like Ms. Bentley for Ethics, Mr. Hopps for Geography, just really great instructors who are passionate about teaching and fun to be around. They made me want to learn even more, and explore alternative ideas. I would go to the school library on my lunchbreak to read Adbusters and my mind was just blown. It was OK to challenge ideas, or disagree — it was encouraged! That's probably how CLC has helped me the most. I had a college degree by the time I was 18, (so that was something to always brag about) but the real help came from my personal development at CLC. Challenging narratives, exploring alternatives, reading, analyzing, developing independent thinking skills. All those skills are required to be successful in web development and in life.
What did you do after CLC?  After CLC I faced the classic case of analysis paralysis: WHAT the HECK am I going to do with my life? I spent a few years working in various career fields until joining the Air Force as a radio and television broadcaster. I got to see a lot of cool places while entertaining fellow airmen with a morning radio show, along with producing news stories about what was happening on base. After I left the Air Force, I kept reading about how there was a huge tech worker shortage, especially in software engineering. So I decided to teach myself web development (the side of programming that deals with coding websites and apps), and said, "Why not start a YouTube channel about this wild journey?"
Tell us more about how you started your YouTube channel!  So now, in addition to my web development work, I host a YouTube channel with over 1,600 subscribers. I do coding demos, review new technologies, share freelance business stories — the works. It's become a real community now, since I also have a coding-related chatroom, newsletter, and website with resources for aspiring and beginning developers. We all are on a mission to be better developers. I wanted to show people that coding and web development is not as scary or boring as some people make it.
My message to students: Get that education! It's the one thing that nobody can take away from you. And don't be afraid to explore technical fields — I promise you, people make it sound boring or really difficult, but in the real world it's all about creative problem solving, not memorizing algorithms or whatever. If you're a creative problem solver, the tech world needs you desperately. It's one of the only fields where you can earn a six-digit income without needing certification or an advanced degree.
Some other fun facts about Lindsey: I'm also a musician who released an electronic funk album, Electric Pomodoro (modeled after a time management technique used in tech). Twitter: Follow her here.