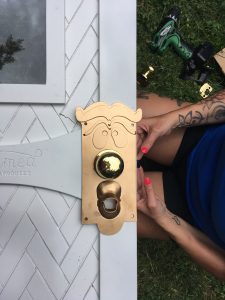 Little Ada wanted a place where she could "play on not be sick anymore." She wanted it to be pink and purple, and visible from her bedroom in Cambridge, MN.
Ada was born with a complex congenital heart defect. Before the age of 5, she already had two open-heart surgeries. So Make-A-Wish® Minnesota stepped in to make her one true wish come true, and Central Lakes College's Welding Department helped create a piece of it.
When talking about her wish, Ada mentioned a doorknob. But not just any knob…A very special one.
"I knew it was interesting that a little one would mention a door knob of all things, so I knew it had to be special," said Samantha Pfeifer, a wish granter with Make-A-Wish Minnesota. "That's when I reached out to CLC and their amazing staff."
Under the direction of CLC Welding instructors David Otto and Paul Jillson, welding student Joshua Carter crafted a replica of the "Alice in Wonderland" talking doorknob (minus the witty vocals!).
"We are softies for kids and to do something that makes a difference in somebody's life, especially somebody going through some hard times, that's just a good feeling and a way to give back," Otto said. "Josh has such an artistic ability it only made sense to challenge him with this."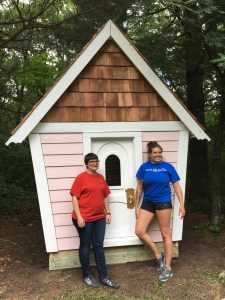 Rebekah Kent, CLC Dean of Brainerd Career and Technical Programs & Customized Training added, "CLC and the Welding Department have a long history of being engaged in community projects. These projects offer students real world experience with the added benefit that it improves their communities. It is fun to see students and come back years after graduation and see that the community project they worked on is still providing value in the community."
Pfeifer and her crew built the pink and purple dream playhouse for Ada in July. Kent was there when it was presented to Ada and her parents, Nick and Anna.
With a smile from ear to ear, little Ada quickly turned the magical doorknob and walked into her magical playhouse. Her wish was granted.