By Irshad Hussain
My name is Irshad Hussain, and I was born and raised in the Hunza Valley of northern Pakistan. This is the story of my journey from the Hunza Valley to Minnesota, and eventually to Chicago. I recently graduated from the Illinois Institute of Technology with a degree in Business Administration with a specialization in Information Technology Management. I did my early schooling from Hunza and Gilgit city until I moved to Islamabad 500 miles from Hunza in 2008. My life in Islamabad was very ordinary with a lot of hard work put into my job and much less return. I was always surrounded by good friends, and one day my friend Noor Alam came to me and asked me to apply for Community College Initiative Development program (CCID). This program selects individuals from all over the world and brings them to America to attend a community college for one academic year. This program also requires applicants to do 40 hours of unpaid internship and 60 hours of civic engagement services. I still cannot forget the day I got a call from CCID saying congratulations and that I had been selected for the program. Shortly after that, I got my visa, and everything went according to plan. I learned that I would be placed at Central Lake College. I landed in Atlanta, Georgia on Aug. 2, 2011 and our orientation was held at Emory University with almost 200 students from all over the world. It was fun four days and I along with seven other students from Ghana, India, Costa Rica, South Africa and Indonesia landed in Minnesota to start our year at Central Lakes College. I have no hesitation in saying that we were the luckiest group of students to be placed in such a friendly and welcoming community of Brainerd. We were welcomed and greeted with open arms.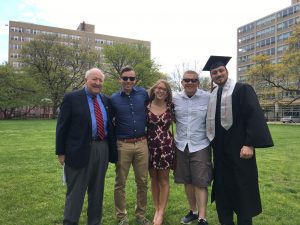 The Brainerd lakes area was the most friendly community I have ever visited. We were treated like stars and now and then we would make an appearance on local TV through Lakeland Public Television. The friendly and welcoming nature of the Brainerd lake area was exemplary. I still remember our graduation parties hosted at Claudia Allene's house on Gull Lake. Claudia was the mentor mom to Naresh Chunara, a student from India. Julie Reese Owens threw a huge graduation party for us, too, and she was a mentor mom to Shanice Hector from South Africa.
Going to the college, market or any other social gathering became a really fun thing for us because everybody greeted and remembered us. This was the most exciting experience that people start loving and caring for you whom you met for the first time in your life. There are so many examples of these friendly invitation to families from the community. One evening, I went to a Brainerd High School hockey game with my mentor family to watch their nephew's game, I remember middle school kids from stands calling my name, waving hands and smiling at me. These were students of the middle school where I did a presentation on Pakistan's culture. Middle schools and high schools invited us to talk to their classes and share our culture with them. We felt like we exceeded the expectation of this cultural exchange program through our involvement in the community. Those days were so beautiful.
The college faculty, administration, and community members all knew the CCID students. We were assigned mentor families. A family from community voluntarily hosted an international student to help them understand American culture. My mentor family, Denise and Phil, both gave so much love and care. Today I proudly call them family. They provided me every opportunity a parent would provide to their son. I am happy to call them my mom and dad.
I've heard from faculty and administration at Central Lakes College that we were an outstanding group of students due to our involvement in Student Senate, volunteer work, academics and extra co-curricular activities. My time in Brainerd was perfect, and I earned a good reputation of being always available, involving myself in the activities offered by the college and also in the community. One of the great motivator and front line leaders was Erich Heppner, the Director of Student Life, who encouraged and motivated us to give our best during our time in Brainerd. The one year in Brainerd was most memorable year of my life. He believed in our abilities and passion.
Personally, I involved myself in every student activity. I volunteered more than 100 hours in the community. I was nominated for excellence awards like Student of the Year, Freshmen of the Year, and Senator of the Year. I enjoyed my time in Brainerd but I was also homesick at the end of academic year, and I was ready to take the long flight home. My eyes were filled with tears of how badly I would miss Brainerd and USA in general.
Once I reached Pakistan, I felt like I have achieved something more than just a diploma in the United States. The relationships, new family, friends, teachers, college experience, and culture of United States have given a new perspective in my life. This new perspective has instilled acceptance, compassion, openness, confidence, leadership, and fun in my life.
During my time back in Pakistan, I accepted a position as a project coordinator in a non-profit organization in Hunza Valley. My experience in the United States was most memorable, yet It felt very short. I thought to myself that one year of diploma is not enough to get me where I see myself after five years. Therefore, I decided to keep an eye out for further opportunities to study in the United States. The opportunity struck at the right time when I was informed about an opportunity to apply for the Presidential Scholarship at the Illinois Institute of Technology-Chicago. Luckily, I was accepted for the scholarship with recommendation and efforts of then-CLC President Larry Lundblad, Student Life Director Erich Heppner, instructors Steve Wenzel and Lori Beth Larsen. These people trusted in me and their efforts got me into the Illinois Institute Technology. Today I am alumnus of Illinois Institute of Technology, which is one of the best schools in the nation. During my four years at Illinois Tech, I achieved significant success in my academics and campus life. I emerged as a student leader and served in different leadership positions. I was a community desk manager for one year and as a senior resident advisor, I supervised a group of 20-30 students. I also played men's volleyball in Division III for Illinois Institute of Technology for two years. My passion for volleyball was developed during my time at Central Lakes College. I played intramurals for CLC Student Senate and I carried this passion to Illinois Tech and became a Division III athlete.
My future goals are to contribute to the Brainerd community and encourage students from CLC to attend Illinois Tech for Bachelor's Degree and inform them about scholarship opportunities. Nowadays I am enjoying summer in Chicago and having many job interviews and waiting for my work permit so I can start working. Once again, thank you to the State Department, my Minnesota family, friends, faculty and staff from CLC and friends in Chicago for your continuous support!