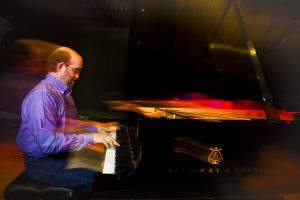 Known throughout the world as a virtuoso on piano, George Winston will give a solo concert on Friday, March 31 in the Chalberg Theatre on the Brainerd campus of Central Lakes College (CLC). The 7:30 show marks Winston's fourth appearance as part of the CLC Theatre's Cultural Arts Series.
"Every song I've ever heard, that has gone in and stayed in me, has always reminded me of a season. A picture and a place, maybe, but always a season," Winston is quoted as saying. As a youth, Winston's interest in music was listening to instrumentals in the various R & B and jazz genres, especially as played by organists. After hearing The Doors in 1967, he was inspired to start playing the organ. In 1971, he switched to solo piano after hearing the music of such greats as "Fats" Waller Teddy Wilson, and Earl Hines. Many of Winston's compositions are self-described as "rural folk piano" or "folk piano", a style he developed as a complement to the up-tempo stride piano. The third style he plays is New Orleans R&B piano, influenced by such greats as Professor Longhair, Dr. John and Jon Cleary.
Winston's early recordings include "Ballads and Blues" and the best-selling "Autumn." His albums "December" and "Winter into Spring" both went platinum (million-plus sales in the United States). He has recorded seven more solo piano albums, and he is one of the best known performers playing contemporary instrumental music.
Winston also is known for his two tribute albums to jazz pianist Vince Guaraldi, composer for the first sixteen "Peanuts" animated films. "Linus and Lucy – The Music of Vince Guaraldi" was released in 1996, and "Love Will Come – The Music of Vince Guaraldi, Volume 2" was released in February 2010.
In addition to his piano work, Winston plays blues harmonica, solo acoustic guitar and Hawaiian slack-key guitar. Both his harmonica and guitar playing can be heard on his benefit album "Remembrance – A Memorial Benefit," which was released shortly after 9/11. In 2006, he recorded another benefit album, "Gulf Coast Blues & Impressions: A Hurricane Relief Benefit," followed by "Gulf Coast Blues & Impressions 2: A Louisiana Wetlands Benefit" in 2012.
Coincidentally, Winston releases his newest recording on the very day he appears in Brainerd. "Spring Carousel" features a collection of 15 solo piano compositions written by Winston while in recovery from a bone marrow transplant for Myelodysplastic Syndrome (MDS) at City of Hope, in Duarte, California, near Los Angeles. Proceeds from sales of "Spring Carousel" will directly benefit City of Hope.
Winston regularly tours across North America, Europe and Asia. He last appeared in Brainerd in 2014. His philanthropy extends to doing whatever he can to combat hunger. Series Producer Patrick Spradlin notes, "George will donate all of the proceeds from his CD sales, minus the sales of "Spring Carousel", to local food banks. We've chosen the Central Lakes College Student Food Bank for this concert. In addition, audience members are asked to bring a non-perishable food item to the concert as a donation."
Spradlin also noted that Winston will be presenting a workshop/demonstration for piano at 7 p.m. on Thursday, March 30, which is open to the public. The event will take place in the Music Rehearsal Room on the Brainerd campus.
Tickets for the George Winston concert are available through the CLC Theatre Box Office at (218) 855-8199, or online at www.clcmn.edu/arts.
This presentation is supported by A Woman's Choice, with additional contributions from the Minnesota State Arts Board.