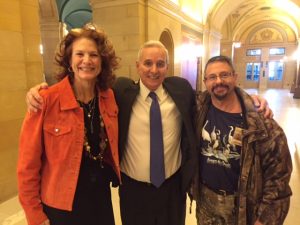 On Tuesday, January 17, Governor Mark Dayton and the United States Department of Agriculture (USDA) signed an agreement securing $350 million in federal funding. The money will be used to protect and improve waters on 60,000 acres across 54 Minnesota counties. In this new state-federal effort, the Minnesota Conservation Reserve Enhancement Program (CREP), will work with farmers and landowners who voluntarily implement conservation practices in areas facing significant water quality challenges. The hope is to protect and improve Minnesota's natural resources for future generations.
"Minnesota is at a critical juncture in addressing our state's serious water quality challenges," said Governor Mark Dayton. "Through this landmark agreement, Minnesota will be better able to protect and improve our waters for our families, natural habitat, and our future. Clean water is everyone's challenge, and everyone's responsibility."
Central Lakes College's own Dr. William (Bill) Faber, Natural Resources Program Head, was present. Dr. Bill was invited as a Citizen Appointee by the Governor to the Legislative-Citizen Commission on MN Resources. "We have recommended $6 million from the ENRTF (Environment and Natural Resources Trust Fund) to go towards the CREP program," said Dr. Bill.
The agreement has the support of nearly 70 organizations and agencies in Minnesota, 11 of which Dr. Bill is a member. These include Audubon Minnesota, Ducks Unlimited, and the Minnesota Conservation Federation.
Pictured: Senator Carrie Ruud, Governor Mark Dayton, CLC Natural Resources Program Head Dr. William (Bill) Faber