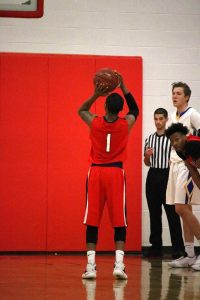 By: Osirus Washington
Following a tough loss Friday night, the CLC men's basketball team pulled together Saturday for a 84-69 win against Minnesota West.
Goal setting is key in championship teams. Freshman guards Darrelle Bacon and Osirus Washington brought energy to the team through communication and encouragement. The Raiders bounced back from their dead performance the previous night. Washington preached defense and how important it is that the Raiders communicate on the floor, rather than just on the bench. It paid dividends as TrayVon Lackey and Lamontrell Fuller both had career games and communicated very well on the court.
Lackey scored 23 points, 6 rebounds, 3 steals and had 3 blocks. He was a hound on the defensive end, which led to great offense. Lamontrell Fuller added 21 points and 7 rebounds on 8-11 shooting. Coach Russell switched up the starting lineup by surprise. He decided to start Timothy Boyd instead. Fuller responded by showing great effort. He and Lackey willed their team to victory in a much needed win for the Raiders. TJ Kornbaum also added 12 points, 4 rebounds, and 2 blocks starting in the absence of Nick Wiesmann due to a concussion.
Look forward to the Raiders hosting a Winter Invitational December 16-17. Get out and support your Raiders as they look to finish 6-3 before break.