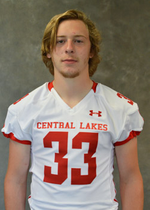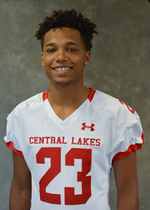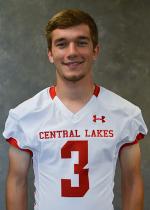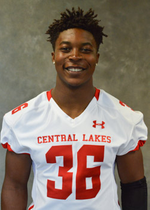 Greg Lewis, RB
Greg Lewis shouldered most of the rushing load in last Saturday's game vs. Ridgewater. He had 21 carries for 89 yards and a vital 2-yard touchdown in the 4th quarter. He had a number of tough runs and key first downs for the Raiders. He and Kejuon Burton can make up enough for the loss of Teddy Sherva, who was injured during the game.
Caleb Glennon, DB
Caleb Glennon has a tremendous impact on the Raiders' already tenacious defense. The Raiders held Ridgewater to just 15 points last Saturday despite Glennon not playing. The previous week against Vermillion, Glennon had four interceptions. He is an X-factor when you think about the No. 1 ranked CLC secondary. You think about guys like Kyree McLean who has six interceptions and 34 tackles on the season. Maurice Willis, who has four interceptions and 32 tackles. Tykeise Johnson, who has 26 tackles and three interceptions with one returned for a touchdown in a clutch moment vs Northland. And Glennon is right there with them and adds six interceptions to this already ball hawking defense. If he plays this week he'll have a big game.
3.  Tristan Waters, WR
Y'all call him Tristan, but we call him Twin. Twin has the ability to break for some big plays. He didn't play in a few games this season so his stats are down, but he can be a threat for Mike Tveitbakk and the Raiders passing game. Twin has four receptions this season for 20 yards or more, despite only playing in seven games. He can be extremely productive, and with a lot of eyes on Mustaful Strong, look for Twin to make a big impact.
Mike Tveitbakk, QB
Mike Tveitbakk has been very productive for the Raiders this season. He has 25 touchdown tosses on the season but it has somehow still gone unnoticed. The Raiders reputation is a football team that can control the tempo with its defense and run game. Tveitbakk adds a little sauce because he is efficient through the air. As a freshman, he has racked up almost 2,000 through the air, and he can also escape and scramble. Look for him to make an impact.
Antoine Akundu, K/DB
Antoine Akundu will play a pivotal role in Sunday's championship game. Last week vs. Ridgewater with the game tied 7-7 in the 4th quarter, Akundu drilled a 17-yard field goal that sparked a 17-0 run. Seeing how Central Lakes and NDSCS match up, Sunday's game can be another close one. Look for Akundu to have an impact.