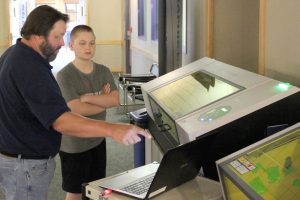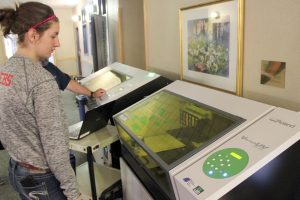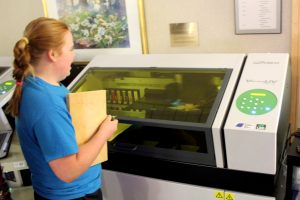 Students from Upsala High School got a hands-on lesson in using Adobe software and a UV printer during a recent visit to Central Lakes College.
Upsala High School teacher Renee Scholz brought students Alexis Krebs, Alice Hebig, Shelby Krebs, Isaiah Wardlaw and Josh Schlumpberger, in order to learn new skills using Adobe software and a UV printer, the Roland Versa LEF 300.
Each student brought an original design idea for printing on 3-dimensional objects, such as a cutout wooden letter, box covers, wood slabs and business cards. All the students were excited to try the gloss feature that gives the design a clear embossed texture. Decals were also printed on a Roland VersaCaMM VS300i.
A few months ago, Central Lakes College, working with Tech Mobile, brought in the two UV printers, two vinyl printer/cutters and two laser etchers. Each of the machines will travel to local high schools to expand high school student's knowledge of the process used for specialty printing in the graphic design industry for each piece of equipment. Similar hands-on learning events are planned for other area high schools in the near future as well.
Over the summer, Roland Equipment held workshop at CLC for local high school teachers to come and see what is possible with the new equipment, and CLC Graphic Design offered Photoshop training for all the teachers