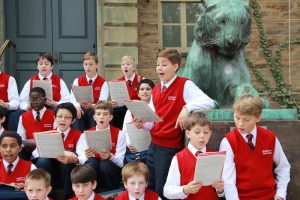 Long recognized as one of the finest musical ensembles in the country, The American Boychoir will perform at 2 p.m. matinee concert on Sunday, November 6 in the Tornstrom Auditorium. Presented by the Central Lakes Community Performing Arts Center, the choir is the second event of the Cultural Arts Series for the 2016-17 season.
Patrick Spradlin, the Center's director and Series producer, discovered the choir while seeking performers for the current season. "The story of how they came to be, and the work that they continue to do, were big draws for us," he says. "We were aiming for more family-friendly events this year, and this was a natural fit."
The American Boychoir was founded in 1937 in Columbus, Ohio as the Columbus Boychoir and has been located in Princeton, New Jersey since 1950. Boys in fourth through eighth grades, reflecting the ethnic, religious and cultural diversity of the United States, come from across the country and around the world to pursue a rigorous musical and academic curriculum at the American Boychoir School in Princeton. While keeping up with their academic demands, the boys balance schoolwork with an intense national and international touring schedule.
Under the leadership of Fernando Malvar-Ruiz, Litton-Lodal Music Director, the American Boychoir has dazzled audiences with its unique blend of musical sophistication, spirited presentation, and ensemble virtuosity. The Boychoir performs regularly with world-class orchestras, including the New York Philharmonic, The Philadelphia Orchestra, and the Boston Symphony Orchestra, and is often featured with such illustrious conductors as James Levine, Charles Dutoit and Alan Gilbert. The American Boychoir is frequently invited to join internationally-renowned artists on stage, and the list of collaborators reflects the extraordinary range of the ensemble: from great classical artists such as Jessye Norman and Frederica von Stade to jazz legend Wynton Marsalis and pop icons Beyoncé and Sir Paul McCartney.
The choir's young soloists are also in high demand and have joined forces with the Baltimore Symphony Orchestra, The Cleveland Orchestra, and Spoleto Festival USA, to name a few. As an icon of American musical excellence, the Boychoir has been invited to sing for every sitting U.S. President since John F. Kennedy. Touring frequently at home and abroad as preeminent ambassadors, the American Boychoir spreads messages of beauty and hope through outstanding musical achievement.
In addition to the almost 100 solo concerts, their season includes four national tours, continued international releases of the movie "Boychoir" with Dustin Hoffman, Kathy Bates, and members of the American Boychoir, performances with the Philadelphia Orchestra, and engagements at the Metropolitan Museum of Art and at Carnegie Hall in New York City. The legacy of the American Boychoir is preserved through an extensive recording catalog, which boasts over 45 commercial recordings and the launch of its own label, Albemarle Records.
Tickets for the American Boychoir are available from the CLC Box Office at 855-8199, or online at www.clcmn.edu/arts
This show is sponsored by Mel and Sonja Nefstead and the Kari and Scott Christiansen Family, with additional sponsorship support provided by Minnesota Public Radio. The entire CLC Performing Arts Center season is made possible in part by an operating grant from