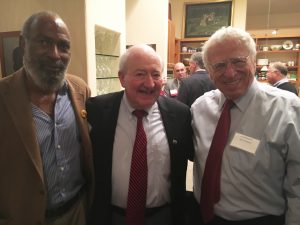 Central Lakes College Political Science instructor Steve Wenzel represented the college at a recent Books for Africa event in Minneapolis.
The event, held at Ambassador Samuel Kaplan's house, pulled in public officials from across the state and farther.
"I was honored to represent CLC at this event," Wenzel said.
Central Lakes College has a rich history with Books for Africa, donating many of its discarded library books to the organization, and taking up collections from the CLC community.
At the event, Wenzel met David Robinson, son of baseball legend Jackie Robinson.
"I deemed it a great honor to meet the son of the great icon, Jackie Robinson, of the Brooklyn Dodgers," Wenzel said. "For it was Robinson's breaking of the color barrier in American baseball that elevated an entire race and transformed the nation.  The remarkable story of Jackie Robinson and how he inspired the nation has made a great and positive difference in the lives of African Americans."
About Books for Africa:
The mission of Books For Africa is to end the book famine in Africa, through creating a culture of literacy and provide the tools of empowerment to the next generation of parents, teachers, and leaders in Africa. Find out more: www.booksforafrica.org