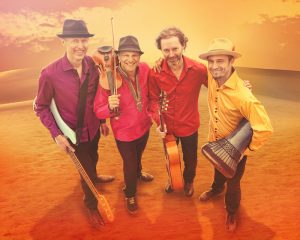 Featuring a repertoire of genre-hopping world music, from Celtic reels and flamenco, to Gypsy-jazz, Arabic, Cuban and South Asian rhythms, the Sultans of String will perform in the Chalberg Theatre on the Brainerd campus of Central Lakes College on Saturday, October 29. Part of the Cultural Arts Series of the Central Lakes Community Performing Arts Center, the concert will begin at 7:30 p.m.
Series Producer Patrick Spradlin spoke of hearing the Sultans of String for the first time. "I was at a performing arts conference in Kansas City and heard them perform a 20 minute showcase of their work. I knew right then they'd be part of this series." Hailing from Toronto, Canada, Sultans of String's CDs have hit #1 across Canada on Top Ten national radio charts, and have received multiple awards and accolades, including 2 JUNO (Canada's Grammy) nominations, 1st place in the ISC (out of 15,000 entries), 2 Canadian Folk Music Awards, plus electrifying performances on stage and in recording with special guest artists including Paddy Moloney and The Chieftains, David Bromberg, Alex Cuba, Ruben Blades, and Ken Whiteley.
The award-winning Sultans of String create "Energetic and exciting music from a band with talent to burn!" according to Maverick Magazine. With their new release, 'Subcontinental Drift,' they serve up a blend of ragas, reels and rumbas with special guest, sitar master Anwar Khurshid (featured in the Oscar winning film 'Life of Pi'). "There is something magical about joining the world music rhythms we play, but with pop sensibilities and forms and lengths, and blending that with the music of the East", says bandleader and violinist Chris McKhool.
McKhool (who has performed with Jesse Cook and Pavlo), was awarded a Queen's Diamond Jubilee Medal for his work in creating community through music. He grew up in a Lebanese-Egyptian (Makhoul) house bursting with music and diversity. Growing up, he was fed a steady diet of delicious musicality alongside Middle Eastern cuisine and violin lessons. When McKhool first heard founding guitarist Kevin Laliberté's (Jesse Cook) rumba rhythm, their musical synergy created Sultans of String's signature sound – the intimate and playful relationship between violin and guitar. From this rich foundation, the dynamic duo grew, featuring such amazing musical friends as bass master Drew Birston (Chantal Kreviazuk), jaw-dropping Cuban percussionist Rosendo Chendy Leon (Alex Cuba, Parachute Club), guitarist Eddie Paton (Robert Michaels), as well as special guests such as The Chieftains' Paddy Moloney.
Sultans of String have been criss-crossing North America for the last several years. Equally at home in a concert series, folk or jazz club, or festival setting, they have been featured at many taste-making forums such as JUNOFest, legendary jazz club Birdland in NYC, the renowned Celtic Connections Festival in the UK, and California's hip music scene, including the San Jose Jazz Festival. They recently sold out Koerner Hall (Toronto's Carnegie Hall), and performed with Toronto, Vancouver, Edmonton, Stratford, Ontario and Niagara Symphony Orchestras, as well with Kingsfield POPS in Maine. Sultans of String also perform for Youth, and perform Pops, Christmas and Family/Education shows with symphonies. Sultans of String were recently filmed by MPBN's Maine Arts! in a feature concert, and performed live on BBC TV, Irish National Radio, and the internationally syndicated shows WoodSongs, World Cafe, and on SiriusXM in Washington.
Reviews of the band are filled with superlatives. "Virtuoso playing…. An exuberant and infectious sound… Powerful and moving…The Sultans are simply an awesome musical group!" – Mike Hill, Artistic Director, Mariposa Folk Festival. "They are players without borders… world music that transcends place and time with a heavy dose of playfulness added in." – The Vancouver Province. "Chris McKhool and the boys were fantastic!  They can play my Bar Mitzvah." – Bob Ezrin, producer (Pink Floyd, Kiss). "Simply brilliant!" – Jeff Mifsud, 3NRG 99.3FM, Australia.
Tickets for Sultans of Swing are available from the CLC Box Office, at (218) 855-8199, or online at www.clcmn.edu/arts
The show is sponsored by Breen and Person, Ltd. The entire CLC Performing Arts Center season is made possible in part by an operating grant from the Minnesota State Arts Board, thanks to a legislative appropriation from the Arts and Cultural Heritage Fund.