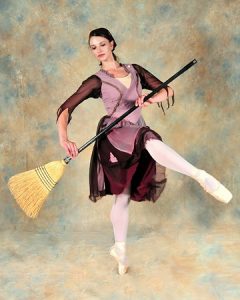 Cinderella is coming to Brainerd, when the Central Lakes Community Performing Arts Center at Central Lakes College presents the Continental Ballet Company's production of Cinderella. The single performance will be at 7:30 p.m. on Saturday, October 15, in the Chalberg Theatre on the Brainerd campus of CLC.
Continental Ballet Company is a professional touring company based in Bloomington Minnesota.   The Founder/Director is Riet Velthusien, a native of Holland. Riet has choreographed this original production of Cinderella to music by Rossini. She carefully selected music that she felt would best tell the story of Cinderella and was recognized by the John F. Kennedy Center for the Performing Arts in Washington DC for her efforts.
This production of Cinderella is told through the style of classical ballet. There are no speaking parts as dancers use movement to express an emotion or thought.   As is typically done with the ballet version of Cinderella, a couple of the step family females will be danced by men.   This adds a touch of humor to the ballet, which brings a strong element of humor to the performance.
The ballet tells the traditional story of Cinderella, complete with fairies and a handsome prince.   Cinderella is not invited to the ball but through her kindness to a stranger, magical events happen that allow her to attend the ball and meet her prince. With exquisite dancing, beautiful costumes and sets this ballet is a delight for all ages.
"We've never presented ballet as part of our Cultural Arts Series," says Patrick Spradlin, the director of the Center. "This is new ground for us. We chose Continental Ballet and Cinderella for several reasons. First, they're Minnesota-based. And they have a mission of reaching young people through the arts that is also part of our mission. And, who doesn't know the story of Cinderella? To see it told strictly through dance will be a wonderfully unique experience."
Continental Ballet Company was founded in 1988 by Riet Velthuisen. Riet has danced professionally with several European ballet companies, including the Dutch National Ballet. Riet studied classical ballet in Amsterdam, The Hague and Paris. The Continental Ballet Company is a member of the Bloomington Fine Arts Council and resides at the Bloomington Center for the Arts. The performers are professional dancers and can include as many as 30 dancers for a single production.   In addition to the performing company, Continental Ballet Company operates a studio of ballet offering dance lessons for students of all ages and abilities. Their web site is www.continentalballet.com
Tickets for Cinderella are available from the CLC box office at 855-8199, or online at www.clcmn.edu/arts
This show is sponsored by Essentia Health. The entire CLC Performing Arts Center season is made possible in part by an operating grant from the Minnesota State Arts Board, thanks to a legislative appropriation from the Arts and Cultural Heritage Fund.