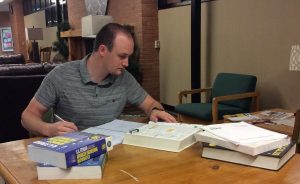 Paul Warmuth likes a challenge. In fact, he needs it. The first year Central Lakes College student thrives on problems that make him think. It's why he taught himself calculus, it's why he began teaching himself physics, and it's why he joined the Honors Program at CLC.
"I need a challenge. If I'm not constantly being challenged, I lose interest," he said.
Warmuth isn't your typical 29-year-old Brainerd resident. While in Afghanistan supporting our troops as a contracted satellite communications technician, Warmuth studied calculus and physics. Hitting the books six to eight hours a day, Warmuth eventually got through calculus one and two, as well as some of physics. He filled many notebooks with calculations.
"I enjoyed it because it made time pass. The more I understood it, the more interesting it became," he said.
But he wasn't always as determined.
"In high school I was a C student. This is my fourth shot at college. I just wasn't interested," he said. "I was bored. I wasn't challenged enough so I lost interest."
Warmuth says it was his time in the military that gave him the discipline to push himself enough to learn that he needs a challenge to stay interested.
Now, as a veteran wanting to win a steady job behind a desk, Warmuth turned to CLC. At the same time, he joined the Honors Program because English instructor and Honors Program coordinator Adam Marcotte called and asked him to consider it.
Warmuth says he's really enjoying his Honors Calculus and Sociology Honors courses. They require more thought, he said. It gives Warmuth that challenge he's been looking for and needs to be successful.
"The Honors Program courses often include students of all ages, backgrounds, and experiences, and the smaller class sizes allow students to really explore their relationship to the course content and one another through hands-on activities, out-of-classroom exercises, and service learning," Marcotte said. "In this way, students help one another discover new elements of the content and seek out ways to leverage their learning to make their communities better."
As for Warmuth, Marcotte says he's "one of our first Engineering students to engage Honors courses with the intention of completing his degree and the Honors Program. It's taken some careful planning and a spread sheet or two, but he's thinking ahead and charting the path that others will be able to follow."
After two years of studying at CLC, Warmuth plans to graduate with his Engineering A.S. Degree as well as the Honors Program. Next, he plans to go to the University of Minnesota in the Twin Cities for Electrical Engineering.
Eventually, Warmuth sees himself living in Colorado and building satellite communication systems. Until then, though, he'll be problem solving…one Honors course at a time.
About the Honors Program:
The Central Lakes College (CLC) Honors Program emphasizes inquiry, discourse, and application. Honors courses feature small, transformative, and seminar-style classes that embrace the content and feature close working relationships with expert instructors. Honors students explore, aspire, and lead in order to make positive change in the world around them.
More info: www.clcmn.edu/programs-majors/liberal-artstransfer-a-a-honors-program-2/