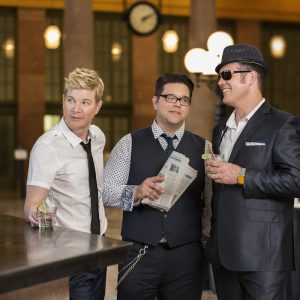 Jazz, ballet, choral music, drama, virtuoso solo artists, R & B, and good ol' rock 'n roll are all part of this season's offerings by the Central Lakes Community Performing Arts Center. Director Patrick Spradlin announced the season by calling it "the most diverse, eclectic, and exciting season we've ever done."
The Center consists of Brainerd Community Theatre, which showcases the talents of local performers and artists in live theatre productions, and the Cultural Arts Series, which presents visiting performing artists of regional, national, and international reputation. Between the two, the Center will present eighteen different events:
Brainerd Community Theatre (BCT) begins its season on September 7 with 'Clarence Darrow,' a one-man play chronicling the life of the greatest trial attorney of the late 19th/early 20th Spradlin will perform the role, a challenge he says he's never undertaken, but relishes.
BCT's second show, 'Flowers for Algernon', will be produced November 2-5. Auditions, open to the public, will be held on September 19 and 21 at 7:00 p.m. in the Dryden Theatre.
'Cat on a Hot Tin Roof,' Tennessee Williams' most famous play will be produced by BCT on March 1-4, 2017. Open auditions will be held on December 12 and 14 at 7:00 p.m. in the Chalberg Theatre.
The Cultural Arts Series kicks off on September 23 with Rio Nido, a vocal jazz trio.
The Continental Ballet Company will present the ballet 'Cinderella' on October 15.
On October 29, the Sultans of String will perform. Their repertoire represents the finest in world music: Celtic reels, flamenco, Gypsy-jazz, Arabic, Cuban and South Asian.
The American Boychoir will perform an afternoon matinee on November 6 in Tornstrom Auditorium.
November 18 brings Switchback, a dynamic duo of Chicago-based musicians who've been playing at sold-out concert halls, festivals and performing arts centers around the world for over twenty years.
Tonic Sol Fa, the most in-demand vocal group in the Midwest, will present their holiday show "I Still Believe" on December 10.
A different kind of holiday cheer will come from Rock n Roll Christmas, the perennial favorite of Brainerd audiences for the past seven years. This crowd favorite will once again perform at Cragun's resort on December 16.
On January 6 there will be the Holy Rocka Rollaz. The band takes you on a trip back to the fantastic 50's with the rockabilly of Elvis, Buddy Holly, Chuck Berry, Johnny Cash, and many more.
On January 20, Sonny Knight and the Lakers present their high octane show of R & B and soul.
'Mistatim' will be performed by Red Sky Productions for two shows on January 25.
The Fabulous Armadillos make two appearances in the season, with one show on February 2 and another on April 21.
Illusion Theater of Minneapolis will present 'Thurgood', a one-man show about the life of Thurgood Marshall, the first African American member of the United States Supreme Court. 'Thurgood' will perform in two shows February 17.
Solo piano virtuoso George Winston returns on March 31 in the Chalberg Theatre.
The National Players, from Baltimore, Maryland, will present two different plays on the same day when, on May 2, they perform 'The Giver' and 'The Grapes of Wrath." 'The Giver' will perform at 2 p.m. and that evening is 'The Grapes of Wrath.'
Tickets for 'Clarence Darrow' and Rio Nido are currently on sale. All other events will be available for purchase beginning September 1.
Buy tickets: 218-855-8199 or www.clcmn.edu/arts
For more information, go to the Center's website at the same address as for tickets.