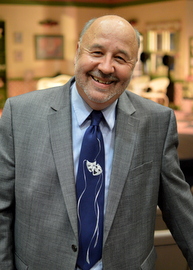 Patrick Spradlin, Theatre Director and Cultural Arts Series Producer for the Central Lakes Community Performing Arts Center, has been named to the Board of Directors of the Minnesota Presenters Network (MPN).
Formed in 1992, MPN is comprised of over 50 presenting organizations of all sizes throughout the state of Minnesota, as well as neighboring states. Arts centers as large as the Ordway, the O'Shaugnessy, the Paramount, and the Reif Center are part of MPN, as well as organizations of medium to small sizes in urban and rural communities. MPN has its goals to increase communications between and among Minnesota presenters, to stimulate cooperative projects that result in the presentation of diverse artists to a wide range of presenters in the region, and to provide professional development to its members and affiliates
Spradlin will serve a three-year term. He takes the place of outgoing board member David Marty, executive director of the Reif Center for the Arts in Grand Rapids.