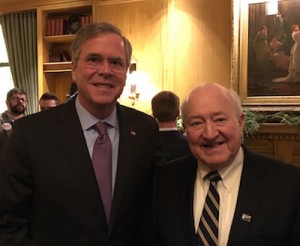 Central Lakes College Political Science instructor Steve Wenzel recently met and chatted with presidential hopeful Jeb Bush.
Wenzel talked with the two-term Florida governor at a recent Minnesota meet and greet.
"I was impressed with his knowledge of the issues and the fact that he listed national security, a strong national defense, and the need to defeat ISIS, as the number one issues before the nation," Wenzel said. "He also said that the most important qualities to have in a candidate for the presidency are character and integrity, and these are qualities I most wholeheartedly agree with him on."
Wenzel said it was neat to be able to meet a presidential candidate who is both the son and brother of two U.S. presidents.
"One has to go back 200 years when John Adams and his son John Quincy Adams were father and son presidents to have a similar parallel event," he said.
Wenzel discussed his talk with Bush and the current presidential campaign with his students Friday in his American Government and Politics class at CLC.