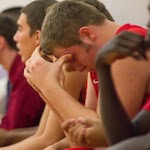 The
Raiders men's basketball team finished fourth in the MCAC/Region 13
Basketball Tournament. CLC beat MnWest in quarterfinal action on Friday
95-82, but lost to Rochester 77-72 in their semifinal game. The played
in the tournament third place game on Sunday losing to Anoka Ramsey by a score of
72-69. The Raiders finish the season with a 24-6 record.