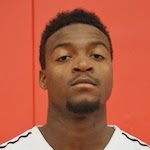 Radamus Jones recorded 24 points during the Central Lakes College Raiders 81-71 Northern Division win over Rainy River Saturday. CLC has now won 15 in a row.
Darsean Woodson added 13 points for the Raiders and Davaghndre Jones scored 11.
"It was a great conference win for us," said Raiders head coach Jim
Russell. "Rainy River gave us a tough game at home and for us to go up
there and get a win was a great team effort on our part."
Story courtesy of the Brainerd Dispatch. Read more.