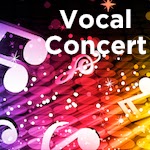 The Christmas Choir Concert presented by the CLC Chamber Singers is Tuesday evening, December 9 at 7:30 pm in the Chalberg Theatre at the Brainerd Campus. Admission is free and there is no reserved seating.
CLC Chamber Singers:
Soprano: Deidre Hilgers, Cari Kounkel, Katie LeBlanc, Kati Nier
Alto: Theresa Johnson, Samantha Strong, Brittany Walters
Tenor: Simon Eckman, Christa Andersen (community member)
Bass/Baritone: Ben Downing, Hagen Gamradt, Charles Koenig, Corey Poland, Brandon Wetherbee, Ed Yunker (community member)
Accompanist: Sarah Gorum
Recorder/flute: Ellen Haglin (community member)
Repertoire:
On this Day Earth Shall Ring! — setting by Robert Schultz
Come, Emmanuel! — Don Besig/Nancy Price
Hodie Veni Christe — Carl J. Nygard, Jr.
Rise Up, Shepherd, And Follow! — arr. Mark Hayes (Men's choir)
I'll Be Home For Christmas–solo by Samantha Strong — Kim Gannon/ Walter Kent
He is Born — arr. Roger Wagner
A Very Merry Madrigal — Douglas E. Wagner
Mary's Little Boy Child — Jester Hairston, piano acc. arr. by Valerie Shields (Women's Choir)
Caroling, Caroling (from The Alfred Burt Carols, Set I) — Alfred Burt
Christmas Lullaby — John Rutter
On With the Snow — a medley of "Sleigh Ride," Winter Wonderland,"
and Let It Snow! Let It Snow! Let It Snow!" — arr. Douglas E. Wagner
Lullaby on a Silent Night (a partner song with "Silent Night") — Franz Gruber/Joseph Mohr, arr. Sally K. Albrecht — with Samantha Strong performing American Sign Language
Refreshments of Holiday goodies immediately following the performance!!