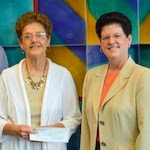 In the fall of 2013, Faye Abrahamson helped establish a scholarship fund for her late husband, Pat Abrahamson, at Central Lakes College (CLC). On Thursday, October 2, Faye presented a check for $1,470 to Pam Thomsen, CLC director of research development and director of the CLC Foundation, for the "Patrick Abrahamson Scholarship Fund". The scholarship is for students enrolled in the small engine or auto mechanic programs with preference given to veterans. Thomsen said Katherine Rettkowski is the second recipient of the scholarship to be used this fall. Pat Abrahamson was an instructor at CLC in small engine and auto mechanic programs for 32 years. He retired in 2002.
Faye Abrahamson said her husband started the Rendezvous Committee 14 years ago at CLC with Mike Bellos, training director of the Employer Support of the Guard and Reserve, as a fundraiser to support veterans and their families. Pat Abrahamson died in 2011. Ever year there is a rendezvous fundraising event. The event started at the Moose Lodge and was hosted there for nine years and for the past six years has been conducted at the American Legion in Brainerd. At the American Legion Fall Rendezvous event, Faye Abrahamson sold raffle tickets for a rifle that was in honor of her husband. Abrahamson purchased the rifle herself and then gave a check to CLC for the "Pat Abrahamson Scholarship Fund". She purchased the rifle for the fundraising event because her husband loved to hunt. Abrahamson said her husband was not a veteran, but was always a big supporter of the military.
If you would like to contribute to the "Patrick Abrahamson Scholarship Fund," please visit
http://www.clcmn.edu/foundation/
or contact Pam Thomsen at (218) 855-8129 or pthomsen@clcmn.edu.
Pictured (left to right):
Mike Bellos, Faye Abrahamson, Pam Thomsen