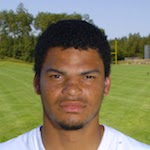 Former Central Lakes College Raiders football player Frank Mays
signed a free agent contract with the Philadelphia Eagles Saturday after
the conclusion of the NFL draft.
Mays played at CLC during the 2010-11 seasons. He was an All-American
and captain in 2011. He led the Raiders to back-to-back bowl game
appearances. He graduated with an AA degree in spring of 2012 and
accepted a scholarship offer to Florida A & M University where he
started at defensive end the last two years.
Courtesy of the Brainerd Dispatch