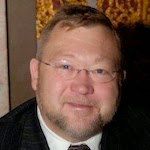 Staples Campus Commencement
The Staples campus commencement event is scheduled for Wednesday, May 14 at 7 pm at the Staples-Motley high school gymnasium.
Brainerd Campus Commencement
The Brainerd campus commencement event is scheduled for Thursday, May 15 at 7 pm at the Brainerd high school gymnasium.

Guy Doud, Featured Speaker for the Brainerd Commencement
A
1973 summa cum laude graduate of Brainerd Community College, now CLC,
Guy Doud immersed himself in all that BCC had to offer. One of his
fondest memories is building a maze in the Gym for Steve Long's Biology
class. Guy hypothesized that rats would learn to run the maze more
quickly than humans. Steve Long disagreed, but the rats won and Mr. Long
lost. While at BCC Guy appeared in the first play ever performed in the
John Chalberg Theater, and went on to appear in over 35 productions in
Community Theater, and served as producer and director for two seasons
when Bob Dryden took a break. Guy credits the faculty and staff of BCC
for the genuine interest they took in students, and the caring they
showed, for giving a somewhat shy kid a feeling of self-confidence.
After BCC Guy received a scholarship to Concordia College in Moorhead,
MN where he majored in Language Arts and Theater. Guy graduated summa
cum laude from Concordia in 1975 and was hired by the Brainerd School
District as a high school teacher. At Brainerd High he not only taught
English, but coached Speech and Debate, advised the Student Council, was
newspaper advisor, served as head of the English Department, president
of the Brainerd Education Association, and directed numerous plays. In
1985 he was chosen as the Brainerd Teacher of the Year and the Minnesota
Teacher of the Year. In 1986 he was chosen as the National Teacher of
the the Year and was received in the Oval Office by then President
Ronald Reagan.
After
being chosen America's TOY, Guy was asked to speak all over the United
States and around the world, something that he continues to do to this
day. He has spoken for many large conventions, and to thousands of
groups with a universal message of hope and love. He has appeared on
CNN, Good Morning America, the Hour of Power, and other television
programs. He is the author of six books, and has made a number of
movies, one which was chosen as the Best Christian Film of the Year.
He
received an honorary Dr. of Humane Letters degree from Judson College
in IL, the Tower Award from the City of Brainerd, an Alumni Award from
Concordia College, the Jaycees Award as one of the 10 outstanding young
men in Minnesota, a National Award from the Future Farmers of America
for his work with FFA. The President selected him to serve on the
Presidential Scholarship Commission, and Prentice Hall publishing
selected him to help assemble and write notes for a new American, World
and British Literature Anthology series. He served as President of the
BCC Alumni Association, helped start a Boy Scout Troop locally, directed
the Community Christmas Pageant for a number of years, pastored two
different churches for over 20 years, and has been an adjunct faculty
member of CLC.
Featured Speaker for the Staples Commencement
Frank
was born in 1948 on a produce farm in Little Canada, Minnesota. His
parents and grandparents migrated from Palermo, Sicily. He grew up
working on his family's farm; manning the fields in the summer and
growing bedding and vegetable plants in the greenhouse during the
winter. Upon graduating high school in 1967, Frank enrolled in the Heavy
Equipment Program at Staples Technical College. In 1968, he married
Sherry Braun, his high school sweetheart. After graduating from Staples
in 1969, Frank worked at a gravel pit in the Twin Cities and took on
small grading jobs with his dad's Massey Ferguson Industrial Tractor.
In
1970, Frank bought a 955H Traxcavator and started F. M. Frattalone
Excavating & Grading, where he provided excavating, grading and
demolition services. In 1985, he added utilities to his company's scope
of work. In 1988 Frank founded Fra-Dor, a pit that screened and sold
black dirt and eventually began accepting broken concrete/asphalt and
recycling it into class 5 and 6 gravel for re-sale. In 1995, Frattalone
Paving was established and in 2003, F.M. Frattalone Excavating &
Grading became Frattalone Companies, Inc. to encompass the many services
they provide. In 2007 Landscaping Supplies was added to Fra-Dor,
providing mulch, sand, decorating rock and many other supplies for
residential and commercial jobs. Frattalone Companies purchased Dawnway
Landfill in Inver Grove Heights, MN in 2008.
Frank
has four children who all work and operate the family business, which
now employs approximately 200 people. Because of Frank's strong belief
in the importance of safety and training, Frattalone Companies has
always provided extensive training for its employees, ranging from
safety meetings at the shop to trainings held at dealer sites.
Frank
has served on the Board of Directors for Central Lakes College for over
30 years, the Operating Engineers (Local 49) Apprentice Board for 15
years, and the Associated General Contractor of MN (AGC) Board for
4 years.
Frank's motto is, "I believe in doing a good job, taking pride in what you do and helping others whenever possible".