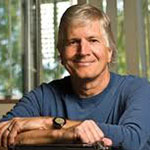 Bill Meissner, director of Creative Writing at St. Cloud
State University and author of "Spirits in the Grass"( 2008 Midwest Book Award
winner), will be the keynote speaker at the Brainerd Writers Alliance Fall
Writing Festival on the Brainerd campus of Central Lakes College 9 a.m.-3:30 p.m. on Sat., Oct. 27. There will be readings, a round table discussion on publishing by local
published writers, and a writing workshop from featured speaker award-winning
author Bill Meissner. A limited number of scholarships are available for CLC
students to attend this event for free. Just fill out and send in the
registration form found on the Brainerd Writers Alliance website . The event is co-sponsored by the Center for Lifelong Learning at CLC. In addition to novel writing, Meissner has published four
books of poems: "American Compass," Learning to Breathe Underwater," "The Sleepwalker's Son," and "Twin Sons of Different Mirrors." More than 350 of his
poems are published in national and regional magazines and literary journals.
His two books of short stories — "The Road to Cosmos" and Hitting Into The Wind" — depict the subtlety of relationships and small town life. In the afternoon, Meissner will present "The American Compass Traveling Road Show" featuring a reading from his four poetry books, two short story collections, and his recent novel. Informal presentation with Q & A. Writing prompts and exercises included in the presentation. For registration information go to www.brainerdwriters.com or call (218) 828-7750. Registration deadline is Oct. 20.
Meissner has won numerous awards for both his poetry and his
fiction including a National Endowment for the Arts Creative Writing
Fellowship, a Minnesota Arts Board Grant, a Loft-McKnight Award in poetry, a
Loft-McKnight Award of Distinction in Fiction, and five Pen/NEA Syndicated
Fiction Awards, including one chosen by Kurt Vonnegut, Jr.
During the
festival's morning session, Brainerd Writers Alliance (BWA) winners will receive
prizes and read winning manuscripts. Brief talks by BWA members with published
books will be interspersed among the readings. Lunch will follow these
presentations.