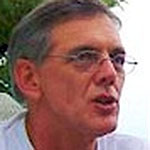 Aubrey Immelman, associate
professor from the Department of
Psychology at St. John's University and the College of St. Benedict, will
present a free, public program on psychological profiling in politics,
presidential candidate leadership profiles of Barack Obama and Mitt Romney, and
his work to develop a deterrence program against North Korean nuclear
proliferation at 7 p.m. on Monday, Oct. 22 at Central Lakes College, Brainerd. Sponsored by the Center
for Lifelong Learning at CLC, the presentation will be about 30 minutes in
length, followed by at least 15 minutes for questions. It will be held in E354,
a lecture hall. His research program since coming to Minnesota more than
20 years ago has focused on the psychology and leadership characteristics of
presidential candidates.
Immelman's research has been published in the
academic journals Political Psychology and Leadership Quarterly and he has
written chapters for on the psychological assessment of presidential candidates
for the "Handbook of Psychology" and the "Handbook of Personology and
Psychopathology."
He studied at the University of Wyoming,
University of Maine, and Nelson Mandela Metropolitan University in South
Africa, where he earned his doctorate in psychology.
Immelman and his students in the Unit for the
Study of Personality in Politics – a research unit he founded at CSB/SJU —
have published dozens of articles on the psychological and leadership
characteristics of presidential candidates.
He has a military background as an army
paratrooper and as a military consultant in the areas of psychologiCal
operations and nuclear deterrence.
Immelman and his wife Pam have four children
ranging in age from 7 to 18.
Admission is free for members of the Center for
Lifelong Learning and $6 for non-members. For information, contact Bev at
218-855-8118 or bberg@clcmn.edu or go to www.clcmn.edu/lifelonglearning