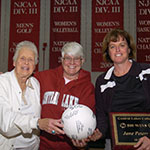 When Jane Peterson
reached the 500-win milestone as Central Lakes College volleyball coach this
season, she celebrated the success of a women's athletic program that stands
high among the nation's best. Helping to commemorate 43 years of collegiate
women's sports in Brainerd recently were retired Raider coaches Nancy Smith (center) and
Darlene Palmer. Smith followed Palmer in 1987 and handed off her
duties four years later to the rookie Peterson. Twenty-two seasons later, with
three national championships and 17 All-Americans in the legacy, Raider
volleyball rallies community pride.
Palmer coached
volleyball, women's basketball, softball and golf and was women's athletic
director. The campus gymnasium was built the year she started the women's
athletic program – 1969 – when the school was Brainerd Community College.
Palmer served on the committee for
developing the state community college women's athletic conference that had its
official sanction in 1974.
She coached two state championship teams (softball 1979, golf 1986) and
four state runner-up teams (basketball 1974 and 1975, softball 1978 and golf
1985). She retired from coaching in 1987.
Palmer, who was among the first inductees into the Raider Athletic Hall
of Fame, is a member of the Minnesota Community College Hall of Fame. Her three
children all attended BCC in the 1970s.
Palmer and Smith both led their teams to state tournaments and, like
Peterson, have coached other sports during their tenures.
Peterson, a standout player at William and Mary, has elevated the volleyball
program. Her teams have earned six conference championships, made nine national
tournament appearances, and won national titles in 2000, 2001, and 2007.
As of Oct. 9, Peterson's volleyball coaching record was 502-224. She has
the most wins among active coaches in Division III of the National Junior
College Athletic Association.
"Without doubt the most enjoyable part of the 'job' is the people I
deal with," she said in an emailed thank-you to colleagues at CLC. "I wish all
of you could be celebrated for your 500th assignment graded, or your 500th
toilet cleaned, or your 500th student you helped, or your 500th class you
taught, or your 500th form you have processed.
"There are great things going on here. I am proud to be part of one of
the many small pockets of excellence we have going on here at CLC."
Under Peterson, CLC volleyball has focused on hard work as a team and
appreciation for the joy of playing this sport with friends and learning
valuable life lessons. "What's really fun is developing relationships with
people," she said. This year's team is a perfect example.
"This team is trying to secure a home playoff tournament by going
undefeated in the regular season," she said. "It is a group with some
exceptional energy and passion for the game they play. They are fun to watch."
Ken
Miller, for 10 years Peterson's assistant, said: "The one constant is that Jane's
teams always strive to get better….and she doesn't just attract good volleyball
players; she gets good people."
This year's team, unfazed by a climb in national
ranking, is poised for a strong finish and prepared to play high-test
volleyball into November.