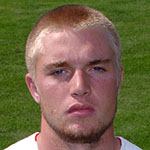 The NJCAA Division III 17th-ranked Cental Lakes College football team edged Minnesota West, 21-20, on Saturday at Worthington. It was CLC's fifth straight win against a single loss (at Northland). The difference: a failed extra point attempt by the hosts after their final TD of a mistake-filled contest. CLC scored 21 straight points to claim a 21-7 lead in the third quarter. But Mn West's Michael Knight returned a kickoff 78 yards to make it 21-14. In the fourth quarter, Mn West's Kevin Harris scored on a 3-yard burst to set up what could have been a game-tying extra point. Tyler Smith's kick failed and the Raiders made the long trip home with their third Division win while previously unbeaten and 20th-ranked Ridgewater was losing, 20-12, to the surprising Fond du Lac unit out of Cloquet, now the Northern Division favorite. Other MCAC scores: Rochester 40, M State 0; Northland 41, Vermilion 14; Mesabi Range 35, Itasca 15.
Jordan Bialke with 19 tackles led a Raider defense that held Mn West to 68 yards rushing and 88 yards passing. Nathan Rutz added 11 tackles and Peter Stenger 10. Matt Mogere and Marion Lambright intercepted one pass apiece and Ryan Cortes recovered a fumble. Stenger, Dilan Gastecki and Dacotah Thompson each sacked Mn West quarterback Greg Gainey once. After falling behind 7-0 in the first quarter, the Raiders had tied the game on Beau Bellmore's burst 4-yard run. Carson Wessinger caught a 25-yard TD pass from Andrew Johnson and Blake Petrich (shown) added CLC's third score of the day on a 6-yard run. Bellmore led the Raiders' ground game with 61 yards and Paul Lake caught three passes for 55 yards. CLC managed the victory despite throwing three interceptions and fumbling once.
CLC held the ball for five more minutes than the home team and executed 18 more plays for a 100yard advantage in total offense. Next: Vermilion (0-6) at CLC Saturday, 2 p.m., Findorff Field.