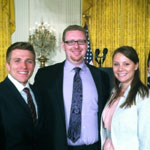 PHOTO: From left, Geoff Dittberner, for Minnesota State College Student Association president; President-Elect Steve
Sabin of Central Lakes College, and
Moriah Miles of the Minnesota State University Student Ass'n. in Washington, D.C., after they witnessed President Barack Obama
signing the bill that will prevent Stafford loan interest rates from doubling for one
year.
Stafford loan interest
rate stays at 3.4%
An agreement to prevent the doubling of subsidized Stafford loan interest
rates from 3.4% to 6.8% was reached by Congress and The White House last week.
The interest rates on Stafford loans were set to double on July 1. This
legislation provides a one year extension of the 3.4% rate and will benefit
approximately 7.4 million students who will take out Stafford loans this year.
In addition to keeping interest rates at 3.4%, this bill also allocates over
$100 billion for transportation projects over the next two years and provides a
five year extension of the National Flood Insurance Program.
Last year's MSCSA President Geoff Dittberner and current President Steve
Sabin were invited to The White House to witness the bill signing. President
Sabin stated, "It was a tremendous honor for former President Geoff Dittberner
and I to travel to The White House and represent the students of Minnesota. It
was humbling to witness the culmination of hard work on behalf of every college
student that spoke up in this country [to keep the rates at 3.4%]. To be able to
see the final step in the bill process was a truly gratifying experience."
SELF loan interest rate reduced

As a reaction to the extended 3.4% Stafford loan interest rate, the state
issued SELF loan interest rate was decreased from 4% to 3.5%. Typically, loans
administered by the state of Minnesota have lower interest rates compared to
federal loans to encourage students to borrow from the state before seeking
federal aid. The Office of Higher Education estimates that the new lower
interest rate will save students around $50 per year on a $10,000 loan.