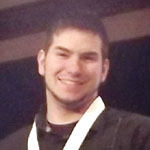 Derek Barnes of Brainerd, a student in the Diesel Technology program at Central Lakes College, captured first place in the state SkillsUSA contest held in Bloomington over the weekend (March 23-25). His honor earns him a berth in the June 25-27 national championship in Kansas City. He received about $2500 worth of tools and training as a result of the win. Cummins Diesel awarded a week of basic electronic troubleshooting as the training prize, a $1,600 value. CLC sent a contingent of 18 students and faculty to the state event to compete in Diesel Equipment Technology and Welding. They were Diesel: Instructors Dustin Schilling and John Maleski, and students Derek Barnes, Joshua Hahn, Gary Nystrom, and Dakota Putzke. Welding: Instructor Mike Reeser and lab assistant Paul Bremer, and students Dustin Hines, Jordan Hultgren, Jennifer Koering, Brady Loftis, Ruben Martinez, Bradley Pierson, Blake Roth, Matthew Rutske, Jesse St. Marie, and Seth Strassburg.
The SkillsUSA Championships is the showcase for the best career and
technical students in the nation. Contests begin locally and continue through
the state and national levels.
In the spring of each year, approximately 350 business and industry leaders
get together and present nearly 70 skill and leadership contests that they have
prepared for the student members from across the state. These are entry-level,
hands-on skill contests, evaluated by the same industry leaders who prepare
them.
The competitions are based on industry driven occupational skill
standards. Industry donates many thousands of dollars in prizes in the form of
scholarships, tools, reference manuals and training aids for winners and their
schools.
Business partners work throughout the school year to plan the
competitive events and many of them hire their new employees right off the
competition floor.
First place winners from each division in most contests will
be offered the opportunity to go on to a national level competition.