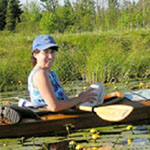 Mary Shideler, known as "The Kayak Lady," will be the
guest presenter Tuesday, Jan. 10 in the debut of the Center for Lifelong Learning
Speaker Series at Central Lakes College, Brainerd. Over the last 15 years Mary has kayaked all 1,007 lakes in Itasca County. To document her
paddling adventures, she wrote and self-published "The Kayak Lady: One Woman,
One Kayak, 1007 Lakes." Her adventure has been showcased by Minnesota Public
Radio, Fox News, On the Road with Jason Davis, and many publications. Sometimes
with the help of friends, but often on her own, she carried her kayak through
brush, trudged across bogs in tall boots, and put up with hordes of mosquitoes
and legions of wood ticks. Mary's presentation is the
first of a series offered by the Center for Lifelong Learning based at the
Brainerd campus of CLC. She speaks at 3:30 p.m. Tuesday in Chalberg Theatre,
where admission is $5.
In close-up encounters, she observed birds
and animals in their forest and wetland habitats and became adept at
identifying wildflowers. Along the way, she also learned to trust her own
capacity to overcome obstacles, including her fear of being alone.
"The Kayak Lady" is a collection
of stories and photos – a mix of adventure and fun – that documents Mary's
experiences over 15 years.
She is a lifelong resident of the Grand
Rapids area where she grew up at Back O' The Moon Resort. Mary learned in her youth
to appreciate and respect the outdoors. She has traveled to six of the seven
continents and worked worldwide, once capturing wild camels in the outback of
Australia.
Other January speakers
in the series include Tom Hanson, foreign policy expert, on "Middle East Realignment" at 1
p.m. Jan. 17 in the Lord of Life Church in Baxter; Dr. Jim Benson, president
emeritus of Bemidji State University, with "Make the Future Your Friend" at
6:30 p.m. Jan. 17 in Chalberg Theatre at CLC; economic expert Dr. Louis
Johnston of St. John's University and the College of St. Benedict on "The Great
Depression and The Great Recession" at 6:30 p.m. Jan. 26 in Chalberg Theatre;
and Jodi Schwen, editor-in-chief of Lake Country Journal Magazine, on "Sparking
Personal Creativity" at 3:30 p.m. Jan. 31 at CLC.
The series grew
from the Center of Lifelong Learning mission to offer life-enriching programs
and opportunities for community building, said Bill Brekken, coordinator. All
programming is designed to serve age 50-up.
Memberships
provide discounts to all programs, with top-level Founding Members and
Sustaining Members earning exclusive benefits. For information contact Bill
at (218) 855-8146 or
bbrekken@clcmn.edu
and to make credit card payment call Beverly Berg at (218) 855-8118.