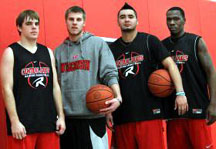 Central Lakes College men's basketball
captains are Ronnie Kornbaum (left), Kevin Kuefler, Maurice Hernandez
and Kwamaine Johnson. Photo: Brainerd Dispatch/Kelly Humphrey
By Shelly Summer, Brainerd Dispatch, Central Lakes College student
For the Central Lakes College Raiders men's basketball team, ranked No. 1 in NJCAA Division III, captains are ruling the court. Sophomores Maurice Hernandez, Ronnie Kornbaum and Kwamaine Johnson
and freshman Kevin Kuefler have led the Raiders to a 13-0 record. "My goal is to bring together kids from all different backgrounds and
help them create friendships for life," CLC coach Jim Russell said. "I
want to win, but I also want to create a family environment where
everyone is respected. "For me, seeing these four guys lead this team is magical. A common
love for the game bridges a lot of the gaps created by their diverse
backgrounds. Something I always look for in my captains is heart;
putting the good of the team before themselves, and these guys have
that." Complete story below or see link with image:
http://brainerddispatch.com/node/17190#.TwB3a1mVrRo
Maurice Hernandez
A St. Paul native, Hernandez grew up loving the game.
"My whole family has always played basketball," he said.
Hernandez started playing basketball for Concordia University in St.
Paul his freshman year but had a connection to CLC through teammate Cody
Hoffman. Hernandez quickly made a name for himself and Russell
recruited him heavily.
"When we got wind that he was available we worked hard to get him
here," Russell said. "He came from a rich, traditional high school that
generated a lot of Division I players so we wanted him."
Hernandez, an all-conference and All-MCAC player, is known for his IQ on the court and for his big heart and approachability.
Despite the adjustments that he would have to make, Hernandez visited CLC and liked what he saw.
"The biggest adjustment for me was the speed," he says. "You have to
be so much faster in college ball, the coaches have more intensity, but
they want what's best for me and for the team."
And, so far it's been working out for him.
"I've had the opportunity to play in some of the best environment,
crowd sizes and being a part of such an event," Hernandez said. "I just
want to keep playing basketball."
He has played in 36 wins in his CLC career and is averaging 16 points per game.
Ronnie Kornbaum
He attended Little Falls High School where he played football and
basketball. His older brother, Will, played basketball at CLC in
2007-2009 so Kornbaum already had a connection to the Raiders.
However, an opportunity for free schooling from Bethel University had
him playing basketball there briefly after high school. It only took a
few weeks before he realized he wasn't playing at Bethel and that he
wanted to play for the Raiders.
"I knew what CLC was about and what I'd be coming to, tradition and
hard work and I wanted to be a part of that'" said Kornbaum.
After playing every position on the court in high school, it was an adjustment for Kornbaum to find his place on the team.
"I just had to find a role and do it well and it turned out to be shooting the ball," he said.
Russell said Kornbaum gives the Raiders a winning edge.
"He was trained in an intense environment, understands his role on
the team, and has become a pillar of support for his teammates," Russell
said. "He always goes the extra mile and is what I would consider a
model student athlete."
In his free time, Kornbaum coaches junior varsity football and AAU
basketball. An all-conference player, Kornbaum is averaging 11 points
per game.
Kevin Kuefler
"All there was to do was play sports," the freshman said of his
hometown of Belgrade. Luckily, for CLC, Kuefler's successes in
basketball, including being an all-conference player, drew the Raiders'
attention.
Kuefler came from a winning high school program and wanted to continue playing for a winning team.
"I'm used to competing in every game, and I wanted to go somewhere
that I could keep winning," he said. "I knew I wanted to play for
Russell and play here."
In addition to being on his own, meeting new people, and trying to
cook, Kuefler has had to make other adjustments with playing college
basketball.
"Once I started practice I adjusted very well to my teammates and
coaches," he said. "I've learned so much since coming here, defense and
leadership skills, and I'm getting a lot of culture."
Russell said all he required of Kuefler was leadership.
"He has so many qualities that he is sharing with the team," Russell
said. "He has a good IQ for basketball and when you put that all
together it's what we're looking for.
"Everyone has really accepted him, trusts him, and that's why he was named as one of the captains."
An all-conference player at Belgrade, Kuefler is averaging nine points per game.
Kwamaine Johnson
Johnson played high school basketball in Phoenix, heard about CLC's "great athletic program" and decided to give it a try.
He also has made several adjustments since moving across the country, but none as challenging as the change in climate.
"It's so cold here," he said. "Seriously, though, the college game is
a lot faster, coaching is more intense, and practices are harder.
Basically, everything is more of a challenge in college basketball but
we all love each other though. It feels like home."
Johnson's winning attitude brings a level of competitiveness to the team.
"He's had a huge change in leadership qualities since last season and
the team is his No. 1 priority," Russell said. "He has amazing work
ethic, he's constantly striving to improve, and I wanted to reward him
by making him a captain."
Johnson added that he's "here to win every game until nationals and then win at nationals for my team."
Johnson, who has also played in 36 wins in his CLC career, is an
all-state and all-conference player and is averaging 12 points per game.